The Public Enemy
(1931)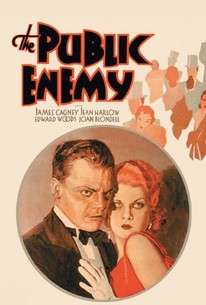 Movie Info
William Wellman's landmark gangster movie traces the rise and fall of prohibition-era mobster Tom Powers. We are first shown various episodes of Tom's childhood with the corrupting influences of the beer hall, pool parlor, and false friends like minor-league fence Putty Nose. As young adults, Tom (James Cagney) and his pal, Matt Doyle (Edward Woods), are hired by ruthless but innately decent bootlegger Paddy Ryan (Robert Emmett O'Connor). The boys quickly rise to the top of the heap, with all the accoutrements of success: custom-tailored tuxedoes, fancy cars, and gorgeous girls. All the while, Tom's loving (and somewhat addlepated) mother (Beryl Mercer) is kept in the dark, believing Tommy to be a good boy, a façade easily seen through by his older brother Mike (Donald Cook). Tommy's degeneration from brash kid to vicious lowlife is brought home in a famous scene in which he smashes a grapefruit in the face of his latest mistress (Mae Clarke). Some dated elements aside, The Public Enemy is as powerful as when it was first released, and it is far superior to the like-vintage Little Caesar. James Cagney is so dynamic in his first starring role that he practically bursts off the screen; he makes the audience pull for a character with no redeeming qualities. The film is blessed with a superior supporting cast: Joan Blondell is somewhat wasted as Matt's girl, Mamie; Jean Harlow is better served as Tom's main squeeze, Gwen (though some of her line readings are a bit awkward); and Murray Kinnell is slime personified as the deceitful Putty Nose, who "gets his" in unforgettable fashion. Despite a tacked-on opening disclaimer, most of the characters in The Public Enemy are based on actual people, a fact not lost on audiences of the period. Current prints are struck from the 1949 reissue, which was shortened from 92 to 83 minutes (among the deletions was the character of real-life hoodlum Bugs Moran).
News & Interviews for The Public Enemy
Critic Reviews for The Public Enemy
Audience Reviews for The Public Enemy
½
James Cagney's breaking role sees him as one of the original "hoodlums", tracing his steps from young tearaway to enforcer during the prohibition years. Pretty much the template for every gangster film to come after, The Public Enemy was a groundbreaker that inevitably had its hands tied by the strict moralistic code that straight jacketed the industry at the time, which in retrospect can be seen to have been rather counterproductive. Without seeing the consequences of his violent crimes on-screen, the cocky and charismatic Cagney is actually quite an appealing character compared to his moralistic but seemingly self righteous and pompous brother. Particularly in the face of such a ridiculous law as prohibition. It has some very memorable scenes, especially the infamous "grapefruit" scene in which the lovely Mae Clarke (who is usurped by the vampish and rather dreadful Jean Harlow) is assaulted with her breakfast, and Cagney's revenge upon the rival mob. It's more of a quaint period piece by today's standards, but Cagney's cocksure performance means it still entertains to this day.
Typical gangster story, predictable, but with an unexpected ending.
½
I am a fan of Jimmy Cagney and this one seems to be one of his very early works. Quite typical of the mob style films of it?s time, but for me not enough storyline to separate this from any other mob movie of it?s day.
Lady D'arbanville
Super Reviewer
The Public Enemy Quotes
| | |
| --- | --- |
| Tom Powers: | Nuts to that stuff (breakfast)! Ain't ya got a drink in the house? |
| | |
| --- | --- |
| Tom Powers: | Hiding behind Ma's skirts, like always. |
| Mike Powers: | Better than hiding behind a machine gun. |
| | |
| --- | --- |
| Matt Doyle: | Gee, she's a honey. I could go for her myself. |
| Tom Powers: | Whatdya mean, you could go for her yourself? You could go for an eighty year old chick with rheumatism. |
| | |
| --- | --- |
| Tom Powers: | Hello baby. What are you gonna have? |
| Kitty: | Anything you say, big boy. |
| Tom Powers: | You're a swell dish. I think I'm going to go for you. |