Pursued
(1947)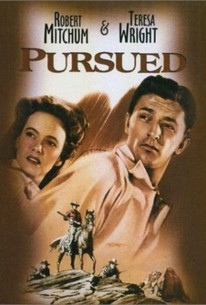 Movie Info
In this western noir, a rancher falls in love with his adopted sister.
Critic Reviews for Pursued
Audience Reviews for Pursued
"Pursued" opens with Jeb Rand(Robert Mitchum) at an abandoned ranch in New Mexico around the turn of the century, explaining to Thorley(Teresa Wright) about his nightmares and how he came to be in the care of her mother(Judith Anderson) when he was only an infant. She turns out to be protective of her stepson, going so far as to confront Grant Callum(Dean Jagger) after he takes a shot at him to settle a long-running feud. He agrees to hold off for now, and does not run into Jeb again until he is an adult and the Spanish American War is about to start. Jeb takes little notice, as he and his stepbrother Adam(John Rodney) have more important things to concern themselves with like which one of them will enlist. "Pursued" definitely has some things going for it like one of Robert Mitchum's better performances and James Wong Howe's exquisite cinematography. Two years after it was made, you can already see the influence of Hitchcock's "Spellbound" at work here in the psychological approach of "Pursued" being more of a why than a whodunnit with Grant Callum being a different kind of villain. However, the drawn out story makes the movie feel longer than it actually is. That's not to mention some narrative inconsistencies like Jeb knowing more than he should and an abrupt ending to a critical scene that spoil an otherwise admirable effort.
A little on the wacky side of logic but fine direction and an excellent cast put it over.
½
A veteran of numerous decent films noirs and westerns (even by 1947), Robert Mitchum was the perfect choice of lead for a western utilising such typically noirish devices as flashbacks, a voiceover and moody, high contrast photography, courtesy of James Wong Howe. There's also a strong biblical flavour to the picture, with the Cain vs. Abel sparring of Mitchum and his adoptive brother, and a plotline concerning the sins of a father being visited on his son. Events do get a little repetitive in the middle and I enjoyed the first half better than the second, though there is a lovely late scene, beautifully acted by Teresa Wright, in which Mitchum calls round to court her and she invites him in and treats him like a stranger, even though they grew up together as brother and sister, under that very roof. Teresa even gets to practise her femme fatale chops for a moment or two, which is a sight I thought I'd never see!
Pursued Quotes
There are no approved quotes yet for this movie.