Pygmalion
(1938)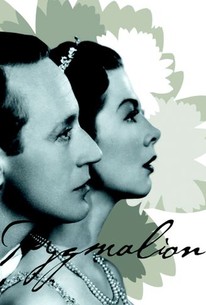 Movie Info
Leslie Howard and Wendy Hiller star in Anthony Asquith's and Leslie Howard's classic version of George Bernard Shaw's satiric comedy. Henry Higgins (Howard) is an upper class phonetics professor who encounters low-class guttersnipe Eliza Doolittle (Hiller) and bets his friend Colonel Pickering (Scott Sunderland) that he can pass her off as a duchess within three months. Pickering accepts Higgins' bet, with Eliza readily agreeing to the proposal, since she will get to live in Higgins' fancy home. Once in Higgins' house, Eliza is subjected to intensely repetitive phonetics lessons in an effort to transform her Cockney accent into the speech of proper English. Things are a bit rocky at first, with Eliza blurting out "Not bloody likely" at a tea party. But when Eliza is presented at the Ambassador's Ball, she is not only accepted as a princess but is the talk of the ball, everyone in attendance commenting on her charm, beauty, and poise. Relishing his success, Higgins abruptly dismisses her. But Eliza has fallen in love with Higgins and is aghast at her cursory treatment by him. She tells him, "I sold flowers. I didn't sell myself. Now you've made a lady of me, I'm not fit to sell anything else." When Eliza leaves, Higgins realizes that he loves her too, but Eliza has announced to Higgins that she plans to marry high society playboy Freddie Eynsford-Hill (David Tree).
Critic Reviews for Pygmalion
Audience Reviews for Pygmalion
The great original adaptation of Shaw's satiric play, which would be remade as the classic musical My Fair Lady many years later in 1964. Clever and convincing, this version relies on a sharp, well-written dialogue and superb performances by Hiller and Howard.
Carlos Magalhães
Super Reviewer
½
Fan of the English language? Fancy yourself as your local arbiter for the British vernacular? Well then this adaptation of Shaw's is just your ticket and man how she sparkles, with more wit per scene, per exchange, than a season's worth of 30 Rock. Howard blueprints Higgens for the generations but Hiller imbues Dolittle with such humanity as to shimmer like a jewel.
Kevin M. Williams
Super Reviewer
It's just very hard for me to take this story as a comedic one. The themes, social commentary, sexual politics, mental manipulation and disturbing physical abuse are so dark that the films lighter moments ring completely false and artificial. I had the same issue with Stanley Kubrick's "Lolita." While you get some great Shaw dialogue, excellent performances from Wendy Hiller and Leslie Howard and a decent amount of thought provoking character interaction, the comedy nearly undermines the entire picture. "Pygmalion" is a story (not a film) that fans of films like "Antichrist," "3 Women," "The Servant" etc. will enjoy.
Steven Carrier
Super Reviewer
Pygmalion Quotes
| | |
| --- | --- |
| Count Aristid Karpathy: | Because Doolittle is an English name and she is not English. |
| Prof. Henry Higgins: | Oh. |
| Duchess: | But she speaks it perfectly. |
| Count Aristid Karpathy: | Too perfectly. Can you show me any Englishwoman who speaks English as it should be spoken, there is no such thing. The English do not now how to speak their own language, only foreigners who have been taught to speak it speak it well. |
| Prof. Henry Higgins: | Yes, there's something in that. |