A Raisin in the Sun
(1961)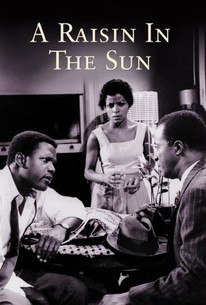 A Raisin in the Sun Videos
A Raisin in the Sun Photos
Movie Info
While this original movie version of Lorraine Hansberry's award-winning play may have dated somewhat, it was groundbreaking when first released in 1961, and a wealth of future plays, films, and TV productions have taken their lead from this socially conscious drama about a struggling African-American family. Lena Younger (Claudia McNeil) is a strong, proud woman who has raised a family in a crowded apartment on the South Side of Chicago. Her son Walter Lee (Sidney Poitier) works as a chauffeur; intelligent and ambitious but impulsive and often angry, he desperately wants to get ahead in a world that offers him few opportunities. His wife Ruth (Ruby Dee) takes in laundry to help make ends meet and watches over their son. Younger daughter Beneatha (Diana Sands) is a college student who wants to become a doctor and often speaks of searching for her cultural identity. On the death of her husband, Lena becomes the beneficiary of a $10,000 life insurance payment, and suddenly the family is in conflict over how the money should be spent. Lena wants to use the money for a down payment on a house. Beneatha is hoping that Lena will help her pay for medical school. And Walter Lee wants to go into business with friends who plan to open a liquor store, which he's convinced will be a sure money maker. The cast, nearly all reprising their roles from the original Broadway production, offers a collection of superb performances; also keep an eye peeled for a young Louis Gossett Jr. as George Murchison. While Daniel Petrie's direction never takes A Raisin in the Sun very far from its roots as a stage play, it captures the power and tension of a strong ensemble cast working with an intelligent and moving script.
News & Interviews for A Raisin in the Sun
Critic Reviews for A Raisin in the Sun
Audience Reviews for A Raisin in the Sun
½
Enjoyed reading the play in college. Enjoyed seeing the play on a community theater stage. Many of the performers from the original Broadway production recreated their roles for this first movie version. With the medium of movies we are given the chance to see a bit more of the Younger family's world, especially the bar where Walter Lee goes to dream with his friends and drown his sorrows as well as the house, which promises a brighter future to Lena and her children. Hansberry, who adapted her own play, gives the cast wonderful complex material. Sometimes Sidney Poitier and Diana Sands as brother and sister seem to still be playing their roles with emotions and voices better suited to the live theater than the more intimate movie camera. Even so, the moments of humor and heartrending family strife combine to make a powerful story of people who's story has rarely been told.
Byron Brubaker
Super Reviewer
It deals, in a very touching way, with issues that test all real life families regardless of their ethnicity or economical background. The strong morality of the family matriarch who tries to lessen their children's rebellious and contestatary attitude towards an unfair society
Pierluigi Puccini
Super Reviewer
A Raisin in the Sun was the first african-american play written by an african-american to appear on broadway, but how does it translate to the big screen? There seems to be very little change in the film adaptation of the stage play (in fact, most of the cast was brought directly from the stage production to hollywood in order to utilize their performances). Indeed, the direction could've been set on auto-pilot and the same film would have resulted. A Raisin in the Sun feels like a play slapped onto film one night, there's no special effort for film invested in either the direction, sets or general production. Sidney Poitier stars as Walter Younger, a man who, along with his wife and young son, live a day-to-day existence in a cramped apartment along with Walter's sister (Diana Sands) and mother (Claudia McNeil). Walter is a chauffeur who dreams of starting his own business. After his father dies, his mother comes into an insurance settlement of ten thousand dollars, and Walter has big plans for that money. Those plans are most often thwarted by his sister Beneatha, who's attending school with the intention of becoming a doctor, and sees the money as a ticket to medical school. The wife and mother seem to be two of a kind, as they serve as mediators in the family scuffles. The wife seems to have nothing but patience for a man who continually dismisses her as nothing more than a nuisance in his life. In fact, Poitier's Walter is quite the disgusting character, a slightly less warped version of A Streetcar Named Desire's Stanley. Sister Beneatha is no less reprehensible, and I'm hard-pressed to think up (off the top of my head, anyway) a more self-righteously self-obsessed character in the world of film. The only truly sympathetic (and realistic) character in the film is Mama. She's an earthy, good-souled woman who can't understand what went wrong with her children, that they should lack so much empathy for their own family members. The matriarch of the family feels authentic, the rest of the characters are just that: characters (to be fair, alot of plays don't ring true to my ears, sometimes the dialogue given to actors seems grandiose, as if the writer were imagining shakespearean drama rather than their own work). But what of the central theme of the play/film? What moral or platitude does the writer seek to imbue upon the viewer? There doesn't seem to be one in this film, other than the tacked-on side plot involving racism. The story/play/film of A Raisin in the Sun may have inspired a whole host of 1970s television (Good Times, The Jeffersons, etc.), but doesn't really elevate itself beyond a standard episode of such sitcoms. It's thoroughly watchable yet unfortunately forgettable.
Devon Bott
Super Reviewer
A Raisin in the Sun Quotes
There are no approved quotes yet for this movie.