The Raven
(1963)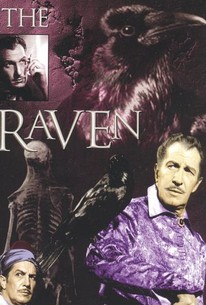 Movie Info
This is not a horror movie; it is a hilarious teaming of three gruesome greats: Peter Lorre, Boris Karloff, and Vincent Price. Karloff and Price are both sorcerers, battling each other to see who's the "sorceriest." Peter Lorre is a part-raven, mostly-man character (created that way by a partially successful "curse-reverse" bestowed upon him by sorcerer Price) who's sort of caught between the antics of the other two. Lorre must have loved this role, because his flippant one-liners thrown at the stone-faced Price and Karloff, are some of the finest moments of the film.
News & Interviews for The Raven
Critic Reviews for The Raven
Audience Reviews for The Raven
½
A movie that features Vincent Price, Peter Lorre, Boris Karloff, and a young Jack Nicholson. Need I say more?
Christopher Heim
Super Reviewer
Corman left completely aside Poe's ghoulish tone to make this tongue-in-cheek "adaptation" of his most famous poem, and because of that it doesn't work as a horror story but is amusing as a light comedy, co-starring Price, Lorre and Karloff in hilarious performances.
Carlos Magalhães
Super Reviewer
A few films with this title now, which is the better you may ask, well it certainly isn't the one with John Cusack. An intriguing Corman take on the classic Poe poem, a horror comedy with his typical B-movie visuals and cheesy dialog. Of course this being a horror his style works and adds huge amounts of ghoulish charm to the proceedings. The fifth film Corman adapted from Poe's classic works and probably one of the best (and more well known). The cast is of course the main factor here, Vincent Price who stars in all but one of Corman's adaptations. Peter Lorre who stars in one other Corman/Poe adaptation, Boris Karloff and of course Jack Nicholson. The plot is based around the Poe poem but of course is very very loose. Obviously most of it has been made up to fill out an entire film and frankly its pretty hokey and childish. Basically Price's character (a good sorcerer) is mourning the loss of his 'Lenore', a talking raven comes into his life which turns out to be Lorre who was turned into the raven by an evil sorcerer (Karloff). Lorre explains that he has seen Lenore at Karloff's castle so off they go to find her. Turns out Lenore faked her death and ran off to the evil 'Dr. Scarabus' (Karloff) to lure 'Dr. Erasmus Craven' (Price) to the castle so they can take his powers. The plot is thinner than a supermodels waistline and merely serves to offer up some Price vs Karloff sorcery towards the end. Nothing really happens throughout the entire film other than a lot of silly dialog and some rather poor attempts at comedy, its very dated. Nicholson plays the part of a young lad and son of Lorre's character, who also falls for 'Dr. Erasmus Craven's' daughter (she accompanies them all on their adventure to Karloff's castle). No real reason for him to be in this really, he does nothing other than serve up wooden deliveries. The visuals in the film are nice with that musky old haunted castle type atmosphere, plenty of old leather bound armchairs and dusty bookcases. Price fits the scene like a glove of course, Karloff seems a bit out of place being slightly too serious but he looks good, while Lorre's character is a real misery and quite unlikable, but its all about his voice isn't it. Some nice matte painting work on the outside castle shots, totally fake looking of course haha but I love that kinda stuff, nice cheesy storm too. Overall its rather lame really, yes I know its a cult classic with an ultra classic legendary cast but the film is pretty dull and uneventful. The highlight is easily the sorcery battle between Price and Karloff in the finale. A great fun and quite long continuous sequence with some nice ideas and nice effects too. The ending is very soft but what do you expect? this is soft core 1960's horror here, back in the day I'm sure it was deemed quite thrilling. I'm sure the hardcore fanboys of these silver screen stars will love this, I enjoyed it but must admit I was bored. The finale is cool but the rest is merely filler, still worth your time though purely for the cast. 'Quoth the raven, Nevermore.'
Phil Hubbs
Super Reviewer
The Raven Quotes
There are no approved quotes yet for this movie.