Raw Deal
(1986)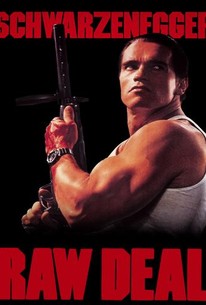 Movie Info
This action film stars Arnold Schwarzenegger as Kaminksi, a former FBI agent called back to duty on a special assignment. Kaminski was discharged because of his violent tactics, but when an FBI agent's son is killed by Chicago mobsters, it is decided that Kaminski is the only one who can clean out the Windy City's gangland subculture. The undercover ex-agent infiltrates a gang that's killing off anyone who is a potential witness against them in an upcoming trial. With his work cut out for him, Kaminski knocks off his adversaries in spectacular battles that make him a one-man battalion.
Critic Reviews for Raw Deal
Audience Reviews for Raw Deal
½
Has a good enough time making fun of itself until things get flatly absurd... That's when Arnold takes his sweet montage-time securing a cache of weapons in a suitcase with all the right velcro straps, and then kills everyone with unflappable machine gun skills, shooting one-handed from a convertible. (Every mob guy is slower on the draw than a Quaker.) At the end, Arnold plays Bogart to Kathryn Harrold's ex-moll elegance. At the start, Irwin films a great jeep-vs-cycle chase and primes us to be scared of Victor Argo -- but I can't even remember how he left the plot. Plot? Who cares? This movie is supposed to be about action, humor and romance... In case you're wondering, Arnold stays faithful to his Darren McGavin.
Adam Mahler
Super Reviewer
½
This really is a horribly made movie, it probably has some of the biggest technical issue of a major motion picture. That being said, it's just a lot of fun and classic Arnold. He has so many great moments and testosterone fueled actions, proving that he one of the greatest action stars to ever live. The storyline is overdone so much and made so honest, but you can't help liking it on at least a sarcastic level.
Conner Rainwater
Super Reviewer
½
One of Arnies weaker films I think, still cool and always good action scenes but just not that many. The whole thing just survives purely because Arnie is in it.
Phil Hubbs
Super Reviewer
Raw Deal Quotes
| | |
| --- | --- |
| Mark Kaminsky aka Joseph P. Brenner: | Resign, or be prosecuted. Any way you want it. |
| | |
| --- | --- |
| Kaminski: | They had trouble explaining to me what it was they wanted. |
| | |
| --- | --- |
| Kaminski: | I'm the pain in Lamanski´s ass. |
| | |
| --- | --- |
| Monique: | Losing improves your character. |
| Kaminski: | Winning improves your wardrobe. |