The Razor's Edge
(1984)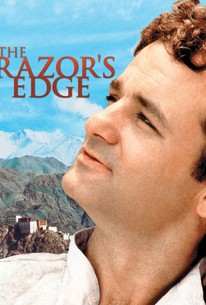 Movie Info
In this Bill Murray-driven remake of the 1946 Tyrone Power film, Murray plays the lead, Larry Darrel, a World War I survivor who takes off on a foreign trek to discover the meaning of his life. Apparently Murray said he'd film Ghostbusters only if Columbia would let him do Razor's Edge.
Critic Reviews for The Razor's Edge
Audience Reviews for The Razor's Edge
2.5-3. Good intentions but tonally it often did not work. There's some good material in the last third of the film but it sadly is almost entirely squandered. Motivations are razor thin. In the end, everyone involved had hearts that were in the right place making it but they didn't really deliver.
Kyle Meisch
Super Reviewer
½
Good intentions do not a good film make, stick with the original.
½
The Razor's Edge, Bill Murray's first attempt at a serious dramatic role, was received with less than stellar reviews at the time of it's release, but it set a precedent he would follow the rest of his career. Based on the novel by W. Somerset Maugham, the script was written by Murray and director John Byrum, with financing provided for Murray's "pet project" only on the condition that he would star in the new film, "Ghostbusters" (and in fact, shooting for Ghostbusters began immediately after wrapping The Razor's Edge). Murray stars as Larry Darrell, a man from an upper class society who, along with his friend Gray (James Keach), volunteers to drive a Red Cross ambulance on the battlefields of France in WWI. They find the brutality of war to be a much different thing than they expected, and when Larry witnesses a friend dying after he himself falls wounded, he finds he can no longer return to comfortable society life. Rather than become an accountant and marry his fiance Isabel (Catherine Hicks, in a role similar to that of Joan Greenwood's in "Kind Hearts and Coronets"), he instead goes to Paris to "think". After working in coal mines and traveling to India and Tibet, he returns to Paris to live a life of quiet contemplation (after finding the materialistic Isabel has married Gray). There he meets his childhood sweetheart (Theresa Russell), who's also suffered a great loss. When the two become a romantic item, the jealous Isabel seeks to destroy their love. The film is well made with great locations, but the acting is all over the place. The performances remind me of those in "The Great Santini". However, Bill Murray is Bill Murray, and regardless of how great his performance is, he essentially plays himself in every film. That said, I liked this film. When Isabel confronts Larry at the end, asking him what the point of everything is, he tells her there is no point. But this isn't a critique of life in general, just of her shallow, materialistic life, and there is no point in seeking perfection where it doesn't exist. A cynical person could say this is just a film about showing how the wealthy crumble apart when their perfect worlds get turned upside-down, but rich or poor, no one's allusions are shatterproof.
Devon Bott
Super Reviewer
The Razor's Edge Quotes
There are no approved quotes yet for this movie.