Rebecca
(1940)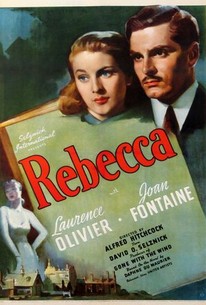 TOMATOMETER
AUDIENCE SCORE
Critic Consensus: Hitchcock's first American film (and his only Best Picture winner), Rebecca is a masterpiece of haunting atmosphere, Gothic thrills, and gripping suspense.
Movie Info
The second Mrs. de Winter is a shy and naive young woman, besotted with charming and urbane Maxim de Winter. They meet and fall in love while vacationing on the Riviera, and after a speedy marriage, return to Maxim's vast English estate, Manderly. His wife is introduced to an army of servants who immediately, if subtly, display hostility towards her, as they all adored Rebecca, Max's first wife, whose death is shrouded in mystery. As the servants become more hostile, the second wife grows more fearful, until she eventually learns the secret of what really happened to Rebecca.
News & Interviews for Rebecca
Critic Reviews for Rebecca
Audience Reviews for Rebecca
½
A young woman, Joan Fontaine (who misses her recently departed dad) has a whirlwind fling with a rich older guy (Lawrence Olivier) that leads to marriage. But there's one snafu: his beloved ex died in a terrible accident and left her considerable presence EVERYWHERE. Hitchcock leaves us to walk a mile in the shoes of the petrified new wife in her desperate attempt to break the gloomy shadow of the past. George Sanders is exemplary in this, considered the first noir, but Judith Anderson is Vincent Price wicked!
Kevin M. Williams
Super Reviewer
½
A stupendous film with an exceptional direction, a stunning art direction and cinematography, and excellent performances from Olivier, Fontaine and Anderson, even if the suspenseful plot seems to diverge a bit from its main course in a last third full of too many twists and turns.
Carlos Magalhães
Super Reviewer
This was the first film Hitchcock made after moving to the U.S. to further his film career. The subject matter for this assignment is an adaptation of Daphne du Maurier's eerie, gothic psychological chiller (with some romance moments) about an unnamed young woman who, after a short, whirlwind romance, marries a wealthy widower. They take up residence in his country estate Manderlay, and from there, the young woman starts to go mad, mostly because it seems that Manderlay is haunted by the spectre of her husband's first wife Rebecca. She died under mysterious circumstances, and most of the staff seem to obsessively prefer her over her replacement, especially the particularly rough and cruel Mrs. Danvers. The film is brimming with lots of great stuff, especially a wonderful score by Franz Waxman, some great art direction, set design, gorgeous cinematography, and some excellent atmosphere, mood, and tone. This is a fine gothic psychological mystery chiller. This was Hitchcock's only Oscar winning film (it took Best Picture in 1940), and it seems odd to me that not only did this get best picture, but that none of Hitchcock's work got any love from the Academy. To be fair, Foreign Correspondant was in competetion for the top prize with Rebecca the same year, but still, none of his great stuff from the late 50s-early 60s? I enjoyed this film, but honestly, as much as I dig Hitch's work, I don't thnk this is Best Picture material, and it's rather overrated in general. Oh sure, I enjoyed it, but it really doesn't come off as all that special. It also doesn't help that it only somewhat seems like a proper Hitch film, something reinforced by the fact that the man himself called it a "Selznick film" instead of one of his own. Where the acting is concerned, Joan Fontaine is decent as our protagonist, and Olivier is passable as our newlywedded widower, but I can't help but feel that he was holding back a bit. It's not a bad performance, but it should be a great one. The film does have one performance that really is quite brilliant, and that is the one given by Judith Anderson as Mrs. Danvers. She's the real scene stealer here. Everything about her performance and just her in general is awesome, from her voice and delivery to her mannerisms and facial expressions, especially her fiendishly eerie glare, this is one of the greatest creepy characters out there. All in all, a decent enough film, but far from great. Maybe had Hitch had more control this could have really been a mesmerizing spectacle instead of a compromised offering from the Master of Suspense. Straight (but solid) B.
Chris Weber
Super Reviewer
Rebecca Quotes
| | |
| --- | --- |
| Maxim de Winter: | And I should be making violent love to you behind a palm tree. |
| | |
| --- | --- |
| Maxim de Winter: | It's gone forever, that funny young, lost look I loved won't ever come back. I killed that when I told you about Rebecca. It's gone. In a few hours, you've grown so much older. |
| | |
| --- | --- |
| Mrs. de Winter: | How do you do? |
| Mrs. Danvers: | How do you do.... I have everything in readiness for you... |
| Mrs. Danvers: | How do you do.... I have everything in readiness for you. |
| | |
| --- | --- |
| Mrs. de Winter: | Last night I dreamt I went to Manderley again. |