Red Dawn
(1984)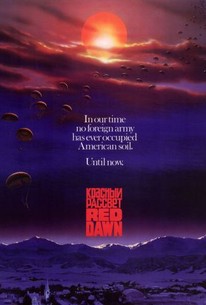 Movie Info
Set at an indeterminate point in the future, this drama with an overt anti-communist message begins as an ostensible war movie: Russian and Cuban forces have invaded the U.S. and are viciously eliminating the inhabitants of a small town, when a group of teens escapes and plans a counterattack. Jed (Patrick Swayze), Robert (C. Thomas Howell), and six of their friends watch in amazement as soldiers parachute into their town and start shooting. The teens grab a pickup truck, stock up on supplies at the local store, and head for the hills. Meanwhile, the men in the town -- after a minimal resistance -- are rounded up and held at a drive-in theater converted into a concentration camp. The sadistic Soviet military then make them watch acclaimed Russian director Sergei Eisenstein's 1938 classic Alexander Nevsky, as their punishing rehabilitation begins. Meanwhile, after minimal resistance from the adults, a Cuban, Bella (Ron O'Neal), is put in charge and is not certain how he can really defeat the teen army. The Soviets and Cubans have so far defeated the American Army, Navy, Marines, and Air Force, but these teens are really something else. After a successful ambush, the teen guerrillas gear up for future forays, when they are suddenly betrayed by one of their number and by doubts about the morality of what they are doing. Red Dawn is noteworthy for being the first movie released with the PG-13 rating, created by the MPAA after public outcry over violent content in the PG-rated Indiana Jones and the Temple of Doom and Gremlins.
Critic Reviews for Red Dawn
Audience Reviews for Red Dawn
Set in an alternate 80's this film is based around the notion that the US is evaded by the Soviet Union and its Cuban and Nicaraguan allies. So its everything your standard red blooded, paranoid, religious Southern hick dreams of, a chance to roam around out in the sticks shooting people that may look like a threat, YEE-HAW!!. World War III, America v Russia, fight!, well almost. The film is interesting if slightly silly, I would of thought it impossible to evade and take the US considering its size and population. A film of its time for sure, a time when America was paranoid about the Russians (and vice versa) and had not too long finished up fighting the North Vietnamese. on one hand its a more serious 'Goonie' type fantasy adventure, on the other hand there is a clear underlying message about the way people thought back then, tensions, imagination running wild, maybe even preparation ideas just in case, what better way to show the masses than with a movie. You could almost say it was a military promotion/propaganda to encourage youngsters to join up, stop the commies from trying this, don't be like one of these characters in the film (that get captured and killed). Putting aside the hidden messages that aren't so well hidden (were they meant to be?) its obviously very dated and effects aren't like today, the action is very hokey. Lots of vehicles being blown up, men shot with no visible evidence of bullet holes or blood, booby traps, thick tashed bad guys etc...It is a grown up serious film though, the premise is serious as are the deaths of various characters and the way the film portrays both sides at crucial moments of morality. To look at the film you could be fooled into thinking it was just another silly 'A-Team' brat pack affair, hell it was only missing Estevez and Lowe. Despite the now famous young cast there is a heck of a lot of emotion flowing through this, certain scenes will make your eyes well up even though you know its corny as hell. The dialog is like the action in its hokey as hell at times but along with the great location work you can't deny the film does pack some punch, somewhat. Back in the day for American kids of that age group I'm sure this film was quite unnerving. As for American adults back in the day I'm sure it did make them wonder about the future. Altogether a film very much of its time which doesn't really work as well now, still fun thanks to a great cast but the edge has long gone due to circumstances changing over many many years. An interesting look back in time though.
Phil Hubbs
Super Reviewer
Jed Eckert: One thing's for sure now... No one can ever go home again. Never.  "In our time, no foreign army has ever occupied American soil. Until now." There's some entertainment to be had from watching Red Dawn, but come on; for the most part this movie is pretty awful. The only way I could see someone actually thinking this movie was good, is if they see it as the so bad, it's good type of film. In my eyes though, I view it as only bad.  When foreign paratroopers land near a high school, a group of teenagers take off into the mountains with supplies. Once they find out what is going on back in town; killing of civilians, re-education camps, etc... they form a little guerilla army of their own called the Wolverines. From there it's just a standard, let's go kill the bad guys movie.  The movie fails in a lot of different aspects. It's horribly written, the dialogue and acting is as fake as any movie you will ever see, and overall the 80's feel of the film just doesn't work in the context of the material. The premise is an interesting one, but there's nothing to drive that good premise home. Enjoyable moments only come from the laughter some of the one liners and acting bring. People call this a classic film, but all I call it is shit. This movie could potentially blow a 14 year olds mind, but for any adult with half a brain, it's just going to be irritating. Now we have a remake of this film that I hear is even worse. Let me just say, I'm not running out to go see that one anytime soon. 
Melvin White
Super Reviewer
The invading armies planned for everything - except for eight kids called "The Wolverines." Decent 80's movie!vThis is one of those films you are either going to love or hate. I find it difficult to believe anyone would be neutral regarding it. The cast is chock full of stars in their younger years, and acting isn't bad either. Great movie and certainly worth watching at least once. Although director John Milius appears to have rested on his dubious laurels through much of the production, I still feel that this film, over time, has achieved iconic placement in the grand scheme of things. It belongs in the time capsule, faults and all. See it if you want! From out of the sky, Soviet, Nicaraguan, and Cuban troops begin landing on the football field of a Colorado high school. In seconds, the paratroopers have attacked the school and sent a group of teenagers fleeing into the mountains. Armed only with hunting rifles, pistols, and bows and arrows, the teens struggle to survive the bitter winter and the Soviet KGB patrols hunting for them. Eventually, trouble arises when they kill a group of Soviet soldiers on patrol in the highlands. Soon they will wage their own guerrilla warfare against the invading Soviet troops-under the banner of 'Wolverines!'