Red Heat
(1988)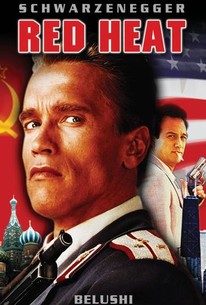 Movie Info
Arnold Schwarzenegger plays a taciturn law-enforcement officer from Russia. James Belushi co-stars as a wise-lipped Chicago cop. Though they go together like caviar and White Castles, they are forced to team up to collar the Soviet Union's most notorious drug lord. Thus does director Walter Hill recycle his 48 Hours formula for another unlikely star team. Unfortunately, Red Heat isn't half as enjoyable as the earlier film, owing to a lack of rapport between the two leading men and an overall lack of inspiration infecting the whole project. The one notable aspect of Red Heat is that it was the first commercial American film to stage scenes in Moscow's Red Square. Watch for Laurence Fishburne (still billed as "Larry") in a secondary role.
News & Interviews for Red Heat
Critic Reviews for Red Heat
Audience Reviews for Red Heat
If you love crime action comedy drama movies, look no further, here's something for you. This movie is action packed because of Schwarzenegger and humorous because of Belushi. Their supporting cast is excellent as well, you can't ask for more from them. Not only is this film entertaining, it's heart warming, thrilling, and has some real good fight scenes. I really liked this, and I recommend watching it.
Well, it was a dud back in 1988, and lo and behold, it's still a dud. The worst part of this movie isn't that it does anything so abhorrently wrong. It's that it doesn't excel at doing anything above average. The action scenes are watchable but not exciting. The villains are bad, but uninteresting. Same thing with the cops. To me, the most interesting element is the character played by Gina Gershon. She happens to be the wife of notorious murderer Victor Rostavilli, and she's a real bargaining chip for the police, but her role is completely downplayed. Victor's deals, double crosses, plans to complete his goals all take place offscreen, so there's nothing to establish him as any real threat, especially because he's going up against the mother of all kick ass heroes: Arnold Schwarzennegger. I was sold on this movie because I heard Arnold was playing a Russian cop. Arnold speaking with a Russian accent? This I gotta see! Unfortunately, while Arnold isn't a total train wreck in his performance, he's not that exciting to watch either here. He drifts in and out of his Russian accent, and is oddly unconvincing when he speaks the language too. He has very few one liners, so anyone watching this movie for a good laugh will be disappointed. Also contributing to the dullness of this dullfest is James Belushi, who doesn't say a single funny line in the entire 105 minutes, although he has many attempts. All in all, this is a weak film. Not a horrible one. But a very mediocre one. So mediocre, you will forget about it almost as quickly as you watch it.
Edward Boxler
Super Reviewer
½
Red Heat is a fun, buddy cop action film with a good cast. A Russian cop teams up with a wise ass Chicago cop to capture an escaped Russian drug lord. Red Heat is a thrilling, awesome action film that is still worth watching again and again. Brilliantly directed by Walter Hill, Red Heat has enough story, comical moments and good action to keep the viewer interested. If you're a fan of Schwarzenegger, then this film will not disappoint you. Walter Hill knows how to craft a smart, and exciting action film and it shows on screen. Though this was made near the end of the cold war, this is still a fun, entertaining film to watch. Walter Hill is a terrific director and he has made yet another memorable action film after The Warriors of course. Red Heat is one of best buddy-cop action films, and personally, I much preferred Red Heat over the Lethal Weapon films. James Belushi and Arnold Schwarzenegger have great presence on screen and the film is a well plotted and crafted action film. The film is exciting and thrilling and manages to be entertaining despite its slightly dated look. What makes Red Heat work above all else is the chemistry Schwarzenegger and Belushi. Mix that with Walter Hill's skilful directing and you have a memorable, fun and exhilarating action film. Walter Hill's best film along with The Warriors and Crossroads.
Red Heat Quotes
| | |
| --- | --- |
| Det. Sgt. Art Ridzik: | Now you look like Dirty Harry. |
| Capt. Ivan Danko: | Who is Dirty Harry? |
| | |
| --- | --- |
| Capt. Ivan Danko: | He said "Go and kiss your mother's behind!" |
| Capt. Ivan Danko: | He said 'Go and kiss your mother's behind!' |
| Capt. Ivan Danko: | He say 'Go and kiss your mother's behind!' |
| | |
| --- | --- |
| Capt. Ivan Danko: | Cocainum! |
| | |
| --- | --- |
| Det. Sgt. Art Ridzik: | No, that's not gonna work. Damn politics won't allow it. |
| Capt. Ivan Danko: | Kill them first! |