Rembrandt
(1936)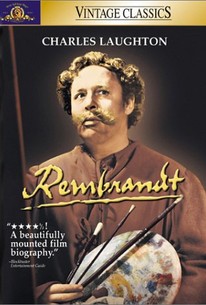 Movie Info
Lightning steadfastly refused to strike twice for the director/actor team of Alexander Korda and Charles Laughton. Though the pair had scored an international success with the 1933 quasi-biopic The Private Life of Henry VIII, they couldn't make the magic happen again with 1936's Rembrandt. Laughton's performance is solid throughout, and Korda's recreation of Rembrandt's Holland is meticulous, but the film suffers from a lack of overall dramatic tension. Except for his artistic achievements and the deaths of his two wives, nothing really "happens" to Rembrandt--at least nothing as colorful as the escapades of Henry VIII. The best element of the film is the successful effort by cinematographer Georges Perinal to recreate the famous "Rembrandt lighting" effect in each scene. Laughton is given fine support by Elsa Lanchester (his real-life wife), and by legendary stage star Gertrude Lawrence in a rare film role.
Critic Reviews for Rembrandt
Audience Reviews for Rembrandt
Another early work of the great Alexander Korda and the second collaboration between him and Charles Laughton. "Rembrandt" didn't quite enjoy the success of the earlier made "The Private Life of Henry VIII" but is still a fascinating and engaging biopic of the great artist and his struggles. Charles Laughton delivers another nuanced and heartfelt performance as the struggling artistic genius. Laughton's own wife at the time plays his character's wife Hendrickje Stoffels who gives Rembrandt a little happiness after years of agonizing since his first wife's tragic death. The film uses light and shadow much like Rembrandt's own works to great use in the film and really showcases the rewards and hardships of being creatively independent and true to yourself. While the other painters make what their buyers want and profit greatly from it, Rembrandt makes what he wants and what speaks to him and is met with disdain from his clients which in turn ruins him financially. This is a great biopic about artistic expression and everything that goes with it!
Chris Browning
Super Reviewer
[font=Century Gothic]"Rembrandt" starts out in 1642 in Amsterdam where Rembrandt von Rijn(Charles Laughton) is a famous and successful painter living with his ailing wife and son. He lives to paint what he loves which includes his beloved wife, Saskia, but he has been persuaded to take a commission to paint a portrait of the Royal Guard. His wife dies sending him into a deep depression. To make matters worse, his portrait is judged to be a failure, at least as far as the subjects are concerned.[/font] [font=Century Gothic][/font] [font=Century Gothic]"Rembrandt" is an early biopic, so I was pleasantly surprised to see that it concerned itself so much with artisitic integrity. Rembrandt simply wants to be in a position where he can paint what he pleases, damn the commercial value. True artsists create art for the pleasure of it, not for the money. And Charles Laughton is absolutely phenomenal.[/font]
Rembrandt Quotes
There are no approved quotes yet for this movie.