Renegades
(1989)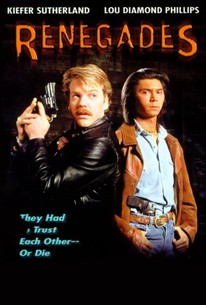 Movie Info
Director Jack Sholder followed his surprise sleeper hit The Hidden (1987) with this action drama that re-teamed Young Guns (1988) co-stars Kiefer Sutherland and Lou Diamond Phillips. Sutherland stars as Buster McHenry, a Philadelphia cop working undercover as a thief in the gang of wealthy, sadistic Marino (Rob Knepper). When the gang's heist of some diamonds goes awry, a few innocents are shot, and a valuable Native American spear is stolen landing Buster in bureaucratic hot water. Along comes Hank Storm (Phillips), intent upon retrieving the relic of his Sioux tribesmen and avenge the death of his brother. Hank and Buster team up to take Marino down and expose police corruption in the process.
Critic Reviews for Renegades
All Critics (5) | Fresh (1) | Rotten (4)
Drab and unconvincing, trying to manufacture car crashes and violent detours to keep in step with the action genre. Not a terrible film, but an oddly joyless one.
Yet another mismatched cop adventure.
April 17, 2005 | Rating: 2/5
Half-baked, forgettable action flick
May 30, 2003 | Rating: 2/5
Audience Reviews for Renegades
½
This movie has a good main cast, the story is good, and it has a lot of good action scenes. Why didn't I rate it higher? Mostly because it's a cheesy, forgettable buddy cop movie that jumped off of the Lethal Weapon wagon. It's just pretty good, it could have been better.
I am a big fan Kiefer Sutherland so of course I jumped at the opportunity of watching this movie starring the youthful Kiefer as a Philadelphia detective who infiltrates a high-powered gang of criminals to expose the corrupt cop they've bought off. Things get complicated when a Native American civilian is killed and a sacred Lakota Sioux spear is stolen by the mob leader following a jewel heist. The brother of the man (Lou Diamond Phillips) teams up with the cop, unwillingly at first, but differences are set aside when they realize they are after the same man. Robert Knepper malevolently hams it up as the vicious mobster Marino, who has little regard to innocent bystanders. Excellent macho performance by Kieffer Sutherland (although his bushy moustache was distracting) and Lou Diamond Phillips as well!
½
Wow did Kiefer look like a 70's porn star with that mustache. My goodness. Typical buddy cop flick of two guys from different worlds coming together against a common enemy. Some rather funny moments and there is good chemistry between the two but it's doesn't do anything overly special to stand out.
Aurelius Duchtius
Super Reviewer