Rolling Thunder
(1977)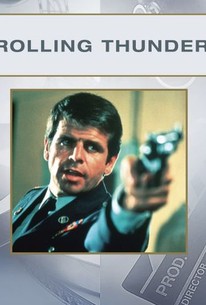 Movie Info
William Devane plays a rare sympathetic role in Rolling Thunder, though his behavior is just as cold-blooded and sharkish as in any of his villainous assignments. Devane is cast as Maj. Charles Rane, a recently released Vietnam POW who is given a hero's welcome in his Texas hometown. Things sour pretty quickly, however: Rane's wife has lost all love for him, his son doesn't recognize him, and there are those in town who consider him a "loser" or "baby-killer." All he really has to show for his ordeal in Nam is a cache of silver coins bestowed on him by the more sympathetic townsfolk. A scumbag gang of thieves decides to relieve Rane of his money; they kill his family, then torture and disfigure Rane to ascertain the whereabouts of the coins. Now living only for vengeance, the taciturn Rane heads to Mexico to exact his own brand of justice on the fleeing crooks. Tommy Lee Jones co-stars as Rane's best friend, Johnny Vohden, who unquestioningly agrees to help Rane in his mission of revenge.
Critic Reviews for Rolling Thunder
Audience Reviews for Rolling Thunder
Revenge films of the 1970's have always were something unique in terms of acting and sheer bad asssed entertainment value. Charles Bronson delivered in Death Wish and that film became one of the standout revenge films of the era. I can think of only one film that comes close to the raw power of Death Wish and that's Rolling Thunder, a powerful action drama starring William Devane and Tommy Lee Jones and brilliantly directed by John Flynn. Films like this show a raw and intense gritty quality that makes for a truly intense viewing experience. With a great cast at hand, Flynn delivers a great movie that is unflinching and highly entertaining from start to finish. John Flynn takes his time to let the story unfold and you steadily get more a more involved as the film progresses to a riveting and thrilling final. This is an effective action picture that stands out due to the great performances and the effective story that is pretty basic, but is constantly exciting due to the fact that it feels like an in your face type of film that just grabs your attention. Quentin Tarantino has said that this was one of his favorite films, and I can understand why. Devane delivers and his character is perplexed with bringing a brand of revenge to the thugs that have murdered his wife and son. If you love old school action flicks that are brilliantly acted and tell a great story with using the basics, then this is the film for you. This is a thrill ride that takes time to unfold, but when it does, it comes with a great payoff. Rolling Thunder is one of the moist memorable revenge films that I have seen. Rolling Thunder is an exciting and bold picture that proves that you can easily create effective action without the big explosions that big studio productions have.
B-movie heaven. An unjustly neglected revenge classic with a simple but compelling plot that sets up William Devane and Tommy Lee Jones in low key, no nonsense performances, leading up to a bloodbath reminiscent of "The wild bunch". As gritty and heartbreaking as almost anything written by Paul Schrader.
Pierluigi Puccini
Super Reviewer
½
This grindhouse classic rises above the level of a normal b-movie revenge flick and earns it's reputation as a low-budget American masterpiece. The scene of the gang stealing the coins from Major Rane is one of the most tense and terrifying scenes I've seen.
Graham Jones
Super Reviewer