Romantic Comedy
(1983)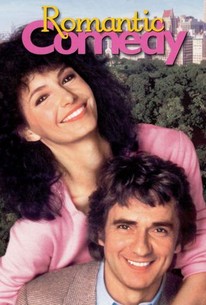 Movie Info
Dudley Moore and Mary Steenburgen are cast as a successful playwright team who are involved in a roller-coaster romantic relationship over their collaborative years. Meanwhile they each carry on their own individual marriages. Adapted from a play by Bernard Slade.
Critic Reviews for Romantic Comedy
Audience Reviews for Romantic Comedy
½
An uncomfortable, slow, and picky film; Dudley Moore tries to copy his success of Arthur with yet another movie songed romantic comedy, except instead of being a lovable drunk with a moral quandary he's an unlikable shrew. In comparison to his character is Mary Steenburgen, possibly the sweetest looking and sounding woman on the face of the earth. Moore's character is the only one who is truly fleshed out, and his is the one who is unlikable and seedy. Steenburgen is flighty and weak, supposedly a strong woman against Moore's bombastic curmudgeon. Instead they are both simply irritating and lank. They star as writing partners who go through years of family drama, insubordination, temper tantrums, and their own set of longwinded, nothing fights over irrelevant issues. Basically the film is about them not being together, but wanting to be together, but they fight and run away, acting like children with distorting psychological problems. Their antics are not entertaining, the characters are flat and petulant, and none of this is funny, per the title. The film even features a theme song from the same composer of Arthur, so it's obvious they were trying to make an unofficial sequel to the massive success and Oscar nominated fame of his first film. Moore is not a leading man, and cannot carry a film while playing a Hollywood fake. He is too crude and strange for that and should have relegated himself to outlandish performances with heart. Really there's nothing to this film, not even the guilty pleasure factor that comes from romantic comedies.
Spencer S.
Super Reviewer
Badly directed, badly written, and badly acted, and not in a good way, I had to force myself to watch and then it took 3 tries to make it to the end. Beyond obvious, beyond stilted, beyond a waste. And this from someone who likes Mary Steenburgen.
Kevin M. Williams
Super Reviewer
Just as the title says, this is another typical romantic comedy movie. Nothing new here. It tries very hard to be funny, but it just fails. Not a good movie, in my opinion, plus the characters got on my nerves. I don't recommend this movie.
Romantic Comedy Quotes
There are no approved quotes yet for this movie.