The Rose
(1979)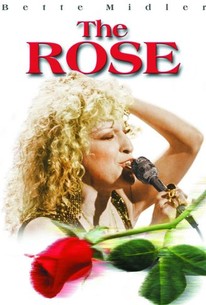 Movie Info
The Rose is definitely derived from the life of the late rock singer Janis Joplin. Bette Midler convincingly portrays a hard-bitten rock singer who drowns her fame and stardom in too much drink and drugs. Frederic Forrest appears as a chauffeur with whom the Rose has a delicate affair. The Rose was nominated for three Oscar awards (Midler, for Best Actress; Forrest, for Best Supporting Actor; and Best Sound).
Critic Reviews for The Rose
Audience Reviews for The Rose
½
As one of the top rock stars around, Rose(Bette Midler) is starting to feel the strain which is not helped by her copious drinking. At least, she has stopped using drugs. So, she wants to take a year off after the upcoming hometown concert in Florida but her manager/promoter Rudge(Alan Bates) reminds her of all the money she will lose if she does. At least, she gets to meet one of idols, Billy Ray(Harry Dean Stanton), after a concert but the meeting goes so badly, she runs away and jumps in the first car, driven by Huston(Frederic Forrest). Even as it is too long and a little ragged around the edges like its protagonist, "The Rose" has Bette Midler's fearless and astounding performance going for it which is enough to get it through the night. Plus, there are the entertaining musical numbers and a lovely late long shot of a lighted phone booth framed against the darkness. And the movie is surprisingly gay friendly with its night club full of drag queens(one of the highlights of the film), a kiss edited out of the film and perhaps the most chaste bath house in the history of New York City. I heard this was inspired by the life of Janis Joplin but I want to remain ignorant on that note, so I can judge this movie on its own merits. What I can say is it does not go the route of the cliched self-destructive rock star and instead focuses on Rose's insecurities which simultaneously drive and destroy her, with a manager who does not have her best interests at heart.
Not bad, but a little dated. I took a whole point off this for the awful singing (of which there is a lot). This movie could have happily been half an hour shorter and better for it. The story itself is good, Bette Midler does a convincing portrayal of a rock star on the verge of self destruction. I picture her to be very much a Courtney Love style person, though obviously this movie predates her - I guess it could be based on any number of past rock stars.
Nicki Marie
Super Reviewer
Although this is another movie about a rock star, it's one of the best, it's more realistic and dramatic than others. Plus the songs are good too. I loved this movie, if you like rock movies you'll like it too.
The Rose Quotes
There are no approved quotes yet for this movie.