Scarface
(1932)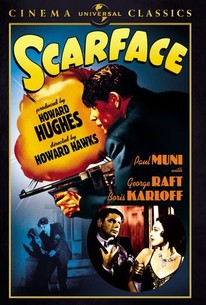 TOMATOMETER
AUDIENCE SCORE
Critic Consensus: This Scarface foregoes his "little friend" and packs a different kind of heat, blending stylish visuals, thrilling violence, and an incredible cast.
Movie Info
In this film, based on Armitage Trail's novel, Paul Muni stars as prohibition-era mobster Tony Camonte. The homicidal Camonte ruthlessly wrests control of the bootlegging racket from his boss Johnny Lovo. However, Tony does have a soft spot in his heart for his sister Cesca.
News & Interviews for Scarface
Critic Reviews for Scarface
Audience Reviews for Scarface
One of the defining gangster films, this is a classic of the genre, one of the first films to really establish the gangster film and adding elements of visceral violence, which for its time was ahead of its time. Scarface is a phenomenal film, a film that is well acted, entertaining and well paced and manages to be a highly captivating film that is well worth your time if you enjoy the genre. The performances here are great and each actor brings something that elevates the film significantly. Plenty of gangster films have been released since then, but Scarface has a secured place as one of the finest examples of what a crime film should be. Simple, yet effective in its execution, this is a great film, a masterwork of cinema, one that showcases brilliant acting and storytelling that is never boring, and with that being said, it's quite impressive to see a film like this having been made during this period. The film is action packed with the right blend of drama and thrills to make it a worthwhile and memorable experience for viewers that enjoy a solidly paced gangster film. For its short run time, Scarface does a lot more than most genre films that are nearly three hours in length. This is filmmaking at its very best and it's a movie that is sure to appeal to any film buff that enjoys a well crafted picture. Scarface still holds quit well by today's standards, and it's one of the defining films that has helped shape the gangster genre.
This film remains a triumph for two solid reasons: it was speaking about the life of an American gangster while said gangster was still alive, and it overcame the debilitating reach of the censorship board in Prohibition era America. Made for the sole purpose of exploiting the fame of Al Capone during his years running Chicago, its reputation at the time was that of educational entertainment for people to see the death and destruction of the mobs. The very beginning of the film starts with a disclaimer urging the public to stand against the criminals and take action for themselves. Of course this ploy was only so the film itself could get into theaters, but it does add a bit of melancholy to the ending. Instead of showing these deviants, there is a romanticization of the lead character, Tony Camonte. Though this film's descendent, of the same name, did a better job of showing the glory and unjust winnings of the mob boss, this film did not disappoint in showing the flash and pomp of being the big shot. Besides the scenes of luxurious ballrooms and fine wine being poured, there's also a quality to Tony that makes him an underdog and somewhat of a hero throughout the film. It's obvious from the beginning that Tony has little brains for the operation, but plenty of ambition, and it's that dumb luck and lack of self-awareness that leads him to win out over his employer. His own ineptitude leads him to be portrayed as brave, when really it's a case of someone going too big too soon and losing it all. What also strikes you is how it's not educational in any sense of the word. There's a henchman who is hard of hearing who ends up being the comic relief, which is very much not showing mobsters in a bad light. Besides that there is also a character study between Tony and his sister, whose relationship is oftentimes abusive. There's a bit of melodrama when it comes to their relationship and the way he treats her, but it also lends to an entertaining watch. The two of the them make the movie go out in a blaze of glory at the end and lends, again, to melancholy. The story is certainly entertaining, but how it's framed and having that historical context really makes this a solid and enjoyable watch.
Spencer S.
Super Reviewer
½
If you're planning on watching this film, I recommend viewing it well before even thinking of setting your eyes on the uncompromising and excessively brilliant Brian DePalma-helmed and Al Pacino-led 1983 version. Pacino's tour de force performance makes Paul Muni's campy efforts seem little more than negligible, and the film's relatively tame screenplay does little in way of shocking the viewer in the same ways that DePalma's gangster epic did scene after scene.
Kristijonas Fussman
Super Reviewer
Scarface Quotes
| | |
| --- | --- |
| Tony Camonte: | You know.. everytime I see you, you look better |
| Tony Camonte: | You know.. everytime I see you, you look better. |
| | |
| --- | --- |
| Tony Camonte: | [Holding a Tommy gun] There's only one thing that gets orders and gives orders and this is it. That's how I got the South Side for you and that's how I'm gonna get the North Side for you. Some little typewriter, huh? I'm gonna write my name all over this town with big letters! |
| Johnny Lovo: | [Holding a Tommy gun] There's only one thing that gets orders and gives orders and this is it. That's how I got the South Side for you and that's how I'm gonna get the North Side for you. Some little typewriter, huh? I'm gonna write my name all over this town with big letters! |
| Johnny Lovo: | Hey, stop him, somebody! |
| Tony Camonte: | Hey, stop him, somebody! |
| Tony Camonte: | Get out of my way Tony, I'm gonna spit! [Fires Tommy gun] |
| Tony Camonte: | Get out of my way Tony, I'm gonna spit! [fires Tommy gun] |