Scrooge
(1970)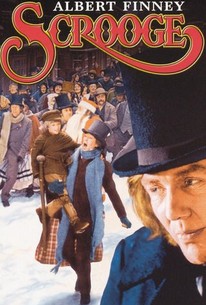 Movie Info
This is the eighth film version of Charles Dickens' most widely read story that was first published in 1843. This engaging musical by Leslie Bricusse finds Scrooge (Albert Finney) as the parsimonious miser with a heart of stone who hates the revelry of the Christmas holiday. He is visited by the ghost of his former business partner Jacob Marley (Alec Guinness) who warns Scrooge he will walk the Earth forever tormented if he fails to change his ways. He is visited by three spirits, the ghosts of Christmas Past (Edith Evans), Present (Kenneth More), and Future (Paddy Stone). Scrooge feels compassion for Tiny Tim (Richard Beaumont), the crippled but hopeful son of his underpaid and overworked bookkeeper Bob Crachit (David Collings). Laurence Naismith plays Fezziwig, Scrooge's first boss who showed great kindness and generosity to his employees. Susan Neve makes her film debut as Isabel, the fiance Scrooge jilted to focus on his love for money. Thirteen songs are performed in what has endured to be an annual holiday musical classic.
News & Interviews for Scrooge
Critic Reviews for Scrooge
Audience Reviews for Scrooge
The story is five star but the songs are pedestrian and dull and drag the film down. The George C. Scott version is still the gold standard.
A wonderfully different version of A Christmas Carol. A 34 year old Albert Finney, takes on the role of Scrooge. For the most part he hits every single note. He's bitter and twisted, but also is shown having some enjoyment. As the film progresses, it's easy to see the fairly natural change. The songs aren't great nor memorable, but they do move the story forward. There is one classic, that we get to hear twice "Thank you very much." which has enough power to get you moving and dancing in the Christmas spirit. This song alone is used brilliantly in the film, being used first as an example of very dark humor, before taking on it's kinder meaning later on. The performances are nice, even if Guiness does seem to be pulling his performance from a different production. Some of the effects are very dated, with The Ghost of Christmas Yet To Come, being a wasted and hardly scary prop.The scenes in hell are a little different, but also confusing. Marley doesn't seem to hate the place that much. This is a very nice adaptation that stands out from the others.
Luke Baldock
Super Reviewer
½
Scrooge is a holiday favorite shoved down my throat from an early age by my mother. If I didn't see this and it didn't stick (those songs were really catchy) I'd give it only 3 stars. But because nostalgia plays a big part in my opinion of this movie I've got to give it 3 1/2 stars. Albert Finney does a great job but Alec Guinness steals the show. Scrooge is definitely worth a watch if musicals don't make you want to puke up a dozen organs, but otherwise go hit up Alastair Sym.
Michael Gildea
Super Reviewer
Scrooge Quotes
| | |
| --- | --- |
| Ebenezer Scrooge: | I think I'm going to like children. |
| | |
| --- | --- |
| Tom Jenkins: | Thank you very much. Thank you very much. That's the nicest thing that anyone's ever done for me. |
| | |
| --- | --- |
| Ebenezer Scrooge: | The trouble with you, Cratchit, is that all you think about is pleasure. Pleasure and spending money. |
| | |
| --- | --- |
| Ebenezer Scrooge: | If I could work my will, Nephew, every idiot who goes about with "Merry Christmas" on his lips would be boiled with his own pudding and buried with a stake of holly through his heart. |