Seven Sinners
(1940)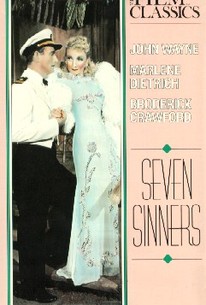 AUDIENCE SCORE
Critic Consensus: No consensus yet.
Movie Info
Set in the South Seas, Seven Sinners stars Marlene Dietrich as a cabaret singer whose reputation as a troublemaker has gotten her kicked out of one port of call after another. Once more causing a riot, Dietrich takes refuge on the first ship out, together with her underhanded cohorts Broderick Crawford and Mischa Auer. During her next stopover at the Seven Sinners Cafe, Dietrich meets handsome Naval officer John Wayne. He falls in love with her, much to the consternation of island governor Samuel S. Hinds, who knows that any romantic entanglement with Dietrich invariably results in dissension, disarray and brawls. He tells her to lay off Wayne or she'll be deported. But Dietrich insists upon performing one last song for the Duke...and sure as shootin', a battle royal ensues. This time, however, Wayne works tirelessly behind the scenes to solve everyone's problems. Maintaining the fascination level of Seven Sinners is a limitless array of top character actors, including Oscar Homolka, Billy Gilbert, Albert Dekker and Reginald Denny. The film was remade in 1950 as South Sea Sinner, starring Shelley Winters and--are you holding on to something?--Liberace.
Critic Reviews for Seven Sinners
Audience Reviews for Seven Sinners
½
Marlene is full of sass and pep in this far-fetched South Sea tale. The Duke cuts quite a figure in his officer whites.
½
What a brawling story of saloon life in the steamy tropics, as John Wayne and Albert Dekker vie for sultry Marlene Dietrich, who walks through this slight story with good humour as a heartbreaking "entertainer". A serviceable action tale as such as I like the final saloon brawl scene the best that makes me laugh and seems exciting.
Dean McKenna
Super Reviewer
In Seven Sinners, Marlene plays a second rate singer called Bijou Blance who appears in various Pacific Island bars, with a drunken ship's doctor, a pickpocket and devoted sailor called Little Ned(Broderick Crawford) in tow. The four of them are deported regularly and go in search of another island. In one of the islands, Bijou finally meets navy lieutenant Bruce (John Wayne), who falls hopelessly in love with her and who, for her sake, would give up his navy job. To prevent that, she involves him in a brawl and then disappears with her hangers-on. The film is an action-packed, two-fisted melodrama and Dietrich's role as Bijou Blanche is a tasteful satire on the Sadie Thompsons of the world. You'll find the tough, glamorous, eloquent demi-mondaine Dietrich. And forgetting all the svelte mannerisms which made her one of the screen's most wooden actresses for a number of years, she cuts loose in this film with a perfect impersonation of a high-class slattern. Her throaty voice gave the song 'I've Been In Love Before (Haven't You?)' just the interpretation it needed. Of course, John Wayne and the entire supporting cast played with verve. The production sets, photography and musical score are typical of Universal. And for it's era, the flick is a fine and stunning example of romantic melodrama that can be enjoyed once more in today's modern generation.
Cinema Films
Super Reviewer
Seven Sinners Quotes
There are no approved quotes yet for this movie.