Shoot to Kill (Deadly Pursuit)
(1988)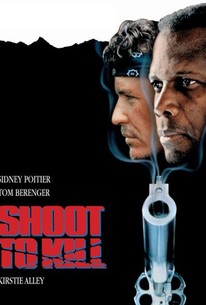 Shoot to Kill (Deadly Pursuit) Photos
Movie Info
Sidney Poitier makes his long-overdue return to films in the 1988 thriller Shoot to Kill. Poitier plays an FBI agent, on the trail of an elusive killer. Reluctantly teamed with tracker Tom Berenger, the citified Poitier braves the wilds of the Pacific Northwest in search of his quarry. For Berenger, the pursuit is personal; the killer, whose identity is not immediately revealed, has joined a hunting party being guided through the country by the tracker's girlfriend Kirstie Alley. Though only bearing the slightest resemblance to Real Life (you'll love the scene between lifelong city-dweller Poitier and a huge grizzly bear), Shoot to Kill delivers the goods in the suspense department.
Critic Reviews for Shoot to Kill (Deadly Pursuit)
Audience Reviews for Shoot to Kill (Deadly Pursuit)
Starts brilliantly but reveals the killer too soon leaving the tension to just evaporate away. Shame.
Marcus Woolcott
Super Reviewer
½
A truly unique 80s action thriller: in order to chase a killer and diamond thief, an FBI agent (Poitier) has to team up with an expert hiker (Berenger) whose girlfriend (Alley) leads a group of men through the mountains to the Canadian border, among them: the killer. The movie takes this idea and creates a breathless trip through beautiful scenery, adding lots of action, suspense and guessing which one of the hikers the killer actually is. Additionally, Poitier's performance adds so much humor to the excitement that you won't look at your watch once during the movie. Some minor plot holes at the connection points to the showdown back in civilization don't really ruin the overall perfect impression this movie leaves, especially the first time you see it. A little known gem of the genre. Not only for fans. They just don't make such action thrillers anymore!
½
A genuine whodunnit classic...one of Sidney Poitier's and Tom Berringer's best team-up to date. A must see.
Fascade Fiveoneeight
Super Reviewer
Shoot to Kill (Deadly Pursuit) Quotes