Show Boat
(1936)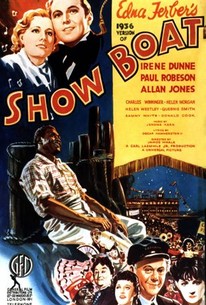 Movie Info
This second film version of the Edna Ferber/Jerome Kern/Oscar Hammerstein II musical Show Boat is considered by many film buffs to be the best of the three. Covering nearly four decades (was there ever an Edna Ferber novel that didn't?), the film stars Irene Dunne as Magnolia Hawks, a role she'd previously played on stage, though not in the Broadway version. The daughter of showboat impresario Captain Andy (Charles Winninger, who was in the Broadway original), Magnolia is swept off her feet by dashing gambler Gaylord Ravenal (Allan Jones). Yearning to appear on the showboat stage, Magnolia gets her chance when Captain Andy's leading lady, the tragic Julie (Helen Morgan, likewise a holdover from Broadway), is ordered not to perform by a small-town sheriff because she is Mulatto. Julie's husband Steve (Donald Cook) loyally walks out with his wife, thereby leaving the leading-man position open--but not for long, since Gaylord Ravenal agrees to take over for Steve, the better to stay close to Magnolia. Despite the disapproval of Magnolia's mother Parthy Hawks (Helen Westley), Magnolia and Ravenal are married. Later on, the couple has a baby girl named Kim. At first, the young family is blissfully happy, but as Ravenal's gambling debts begin to mount, things turn sour. Unable to support Magnolia and Kim, Ravenal walks out on them both. Desperately, Magnolia tries to get a job as a singer in Chicago. She auditions at a night spot where, fortuitously, Julie is the featured attraction. Hoping to give Magnolia a break, Julie gets drunk, forcing the manager to hire Magnolia as a replacement. During her New Years' Eve debut, Magnolia "chokes up" in front of the raucous audience--and then, who should emerge from the crowd but lovable Captain Andy, who gives Magnolia the encouragement she needs. Magnolia goes on to become a famous musical comedy star, as does her grown-up daughter Kim (played as an adult by Sunnie O'Dea). On the eve of Magnolia's retirement from the theater, she is reunited with her now-contrite husband Gaylord Ravenal. While the second half of Show Boat departs radically from both the novel (in which Ravenal never returns ) and the Broadway show, the film manages to capture the spirit of its literary and theatrical ancestors. Of the original score, "Cotton Blossom," "Ol' Man River," "Where's the Mate for Me?" "Make Believe," "Can't Help Lovin' Dat Man," You are Love" and "Bill" are retained, while most of the other songs are heard as background accompaniment. Jerome Kern and Oscar Hammerstein II penned three new tunes for the film version: "Ah Still Suits Me," "Gallavantin' Around" and "I Have the Room Above." As in all stage and screen versions of Show Boat, the Charles K. Harris standard "After the Ball" is heard in the New Year sequence. In addition to the aforementioned Dunne, Jones, Winninger, Westley, Morgan, and O'Dea, the Show Boat cast includes the magnificent Paul Robeson as Joe (his rendition of "Ol' Man River" can still induce goosebumps), Hattie McDaniel as Queenie and Sammy White and Queenie Smith as the engagingly second-rate vaudeville team of Frank and Ellie Schultz. Though James Whale of Frankenstein fame seems an odd choice for director, he brings a vibrant theatricality to the proceedings that is lacking in other versions. Show Boat literally saved the financially strapped Universal Pictures from receivership--but not soon enough to prevent the ousters of Carl Laemmle Sr. and Jr. in favor of a new administration.
Critic Reviews for Show Boat
Audience Reviews for Show Boat
this is the show boat to watch, and in spite of irene dunn's blackface number, one of the most racially sensitive films i've seen from the 1930's. just watch the scene where helen morgan sings 'can't help lovin that man of mine' or paul robeson's 'old man river'. if this doesn't move u then you're made of stone
Stella Dallas
Super Reviewer
½
Somewhat more faithful to the book and it does record Helen Morgan's legendary stage performance but the later Ava Gardner version is still the superior film and the one to watch.
Show Boat Quotes
There are no approved quotes yet for this movie.