The Silent Partner
(1978)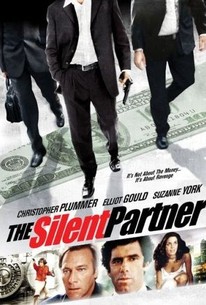 Movie Info
The Canadian "sleeper" The Silent Partner stars Elliott Gould as a teller, Miles Cullen, who figures out psycho Harry Reikle's (Christopher Plummer) scheme to rob his bank, several days ahead of time. Cullen providently squirrels away 50,000 dollars in a safety-deposit box before Reikle strikes. After the robbery, the papers report the amount of the bank's loss. Reikle realizes that there's 50,000 extra bucks floating around that he hasn't gotten his hands on. The soft-spoken but sadistic Reikle puts the screws on Cullen to fork over the dough -- but Cullen has lost the deposit-box key. Be forewarned: this one gets extremely brutal and bloody at times, with sudden bursts of graphic violence. Also featured is Susannah York as the fluctuating-loyalty heroine, and a very young and hairy John Candy. Future L.A. Confidential scribe Curtis Hanson loosely adapted the Danish novel Think of a Number, by Anders Bodelsen. ~ Hal Erickson, Rovi
Critic Reviews for The Silent Partner
Audience Reviews for The Silent Partner
Good measured heist film with a competent cast is only slightly marred by the inclusion of some unnecessary violence. Obscure film that is worth seeking out.
½
If I had to pick a single movie to remember Susannah York by it would be Robert Altman's little-seen but utterly brilliant Images. To be quite honest, sweet and appealing though her character is, she's kind of wasted here. However, as not many of my friends have seen it, and as it has some very interesting credits, I thought I would recommend this nifty Canadian thriller instead. It was scripted by Curtis Hanson, who would go on to direct, among other things, L.A. Confidential and Wonder Boys, it features an early appearance by John Candy and its score was composed by jazz pianist Oscar Peterson. The ingenious plot has bank teller Elliott Gould pre-empting a robbery, filling his own pockets first and leaving hapless robber Christopher Plummer to take all of the blame but precious little of the loot. Predictably, Plummer, a psychopath, realises he's been duped and comes looking for the rest of 'his' money... The first half of the movie, in which Gould and Plummer play cat and mouse, repeatedly turning the tables on one another, is brilliant and gloriously entertaining; sadly, the plotting starts to wobble in the last hour and silliness creeps in. The film's fatal flaw, however, is that it cannot seem to decide how light or dark it wants to be, resulting in some jarring shifts in tone and some thoroughly gratuitous, nasty, misogynistic violence. Gould is okay but has been more charming elsewhere; Susannah York is, as I've said, good but underused; Plummer, however, hams it up a treat as the villain.
½
A pretty good thriller with a nice cast, but it could have been better. Most of it is actually pretty predictable, and some scenes are slow, but there are also some very good thrilling scenes too. Overall, it could be better.
The Silent Partner Quotes
There are no approved quotes yet for this movie.