Skin Deep
(1989)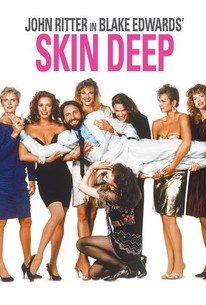 TOMATOMETER
AUDIENCE SCORE
Critic Consensus: John Ritter's charm goes a long way, but aside from a few funny moments, Skin Deep sees writer-director Blake Edwards recycling his own material.
Movie Info
In this Blake Edward's comedy, self-centered writer Zach Hutton (John Ritter) is separated from his wife (Alyson Reed) when she gets sick of his alcohol-drinking, woman-chasing ways. As Zach realizes that he truly loves his wife, he attempts to give up his evil ways to win back her affection.
Critic Reviews for Skin Deep
Audience Reviews for Skin Deep
½
Blake Edwards tenta repetir Mulher Nota 10. O que não funciona.
Lucas Martins
Super Reviewer
½
"Skin Deep" is not only one of Blake Edwards' very best films, it is probably his most successful combination of comedy and drama to date. Edwards wants to have it both ways and it succeeds. The film stars John Ritter as Zach Hutton, a one-time famous, best selling author who has stumbled. He is quick to blame it on writer's block, but he has other problems. He drinks excessively. He womanizes even more excessively. His wife has left him after finding him in bed with his mistress' hairdresser. (No, I'm not spoiling the film for you; Edwards makes this all clear in the first 12 minutes) Hutton then sets out on a mission to get his life in order and gain his wife back. Right there, "Skin Deep" resembles another film, Paul Mazursky's great "Blume in Love". But Edwards takes some turns that Mazursky never even considered. Yeah, Zach wants his wife back, but does he want to change? The answer could be no, but I'm not saying yes either. As in his best films, Edwards never gives any easy answers to the questions he asks and he simply records an existence. I've made "Skin Deep" sound awfully serious. But I want to say that "Skin Deep" is one of the funniest Edwards films I've ever seen. There are sequences here that rival the best Panther films in terms of hilarity. The house fire. The glow-in-the dark condoms. The electrical therapy sequence. The tsunami warning. His sleepover at his best friends' house, but I can't list them all. I want you to discover some as well. I have to give special mention to John Ritter. Most people had written him off as Jack Tripper from his hit TV series "Three's Company", but he had developed into a fine actor with roles in "Sling Blade", "Unnatural Causes" and "Nowhere". Here, he finds the right tone for all of his scenes. He can go from comedy to drama and always be convincing. It's a brilliant performance and it was a real shame the Academy couldn't recognize it. He is a actor who passed away to soon. "Skin Deep" marked a milestone for Blake Edwards. At the time of its' release, 1989 was his 50th year in show business. I've always been an admirer of his work and it gave me great pleasure to see that he still has it in him. It is also kind of sad that Edwards followed this masterpiece with the lackluster "Switch". To sum up here, this is a film worth checking out if you can find it. A very high recommendation.
David Ladd
Super Reviewer
½
I saw this when I was quite young and enjoyed it but I think I missed some of the subtley...lol...good movie.
Barry Lappin
Super Reviewer
Skin Deep Quotes
There are no approved quotes yet for this movie.