Smile
(1975)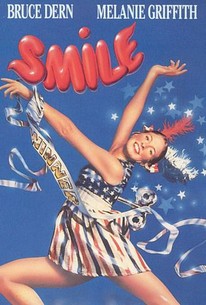 Movie Info
The backstage maneuverings at a California beauty pageant are the subject of this often cynical satire, which has developed a strong cult following. While much humor is found in the brutal competitiveness of the young contestants, the film's sharpest barbs are saved for the pageant's shallow yet driven organizers.
Audience Reviews for Smile
A beauty pageant in California is the setting for a cynical look in the mirror at all things American, such as teaching our children to lie and then blaming them for doing it, even as we do it ourselves, Vaseline smiles, and ignoring the emptiness gnawing in our hearts. Oh, it's cheery enough and bright, and sparkly, but do we really believe our own lies? As relevant today as when it first was made in those olden days before cell phones.
Kevin M. Williams
Super Reviewer
Released the same year as Robert Altman's "Nashville," "Smile" takes a similar satirical look at lowbrow American culture. What's most wonderful is that this Michael Ritchie film not only paints a ruthless picture of a vapid "Young American Miss" pageant, steadily refusing to grant the audience any note of reassuring sentimentality, but that its gags are often laugh-out-loud funny (particularly during the talent competition). Not all satires manage to operate on that more visceral level. The cast is full of faces who became much more familiar later -- Melanie Griffith, Annette O'Toole, Dennis Dugan, George Wyner, Colleen Camp -- but Bruce Dern stands out as the dim but well-meaning head judge (a car salesman during the rest of the year) who always tries to put an upbeat spin on life.
Eric Broome
Super Reviewer
Smile Quotes
| | |
| --- | --- |
| Robin Gibson/"Miss Antelope Valley": | Well, I'm just glad I'm not old enough to vote. |
| | |
| --- | --- |
| Doria Houston/"Miss Anaheim": | It's a CONTEST! |
| | |
| --- | --- |
| Doria Houston/"Miss Anaheim": | No, I won two hundered dollars and had a wart removed. |
| | |
| --- | --- |
| Little Bob Freelander: | Dad, are there any fat girls in the contest? |