Sorcerer
(1977)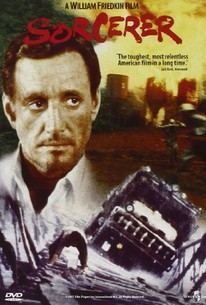 TOMATOMETER
AUDIENCE SCORE
Critic Consensus: Sorcerer, which obstinately motors along on its unpredictable speed, features ambitious sequences of insane white-knuckle tension.
Movie Info
In a remote South American town, four expatriates with nothing to lose agree to drive a truck carrying highly explosive chemicals over miles of hazardous terrain. The drivers will be handsomely paid -- if they survive. This knuckle-biting thriller is a remake of the French classic The Wages of Fear.
Critic Reviews for Sorcerer
Audience Reviews for Sorcerer
½
William Friedkin and Roy Scheider team up again with this action adventure. Well executed, directed and acted, Sorcerer is a film that manages stand up to Friedkin's previous works such as the highly memorable The Exorcist and The French Connection. Although not as solid as those films, this directorial effort nonetheless has enough thrills going for it to make it an exhilarating picture. The cast here are terrific in their parts, and I felt that each brought something worthwhile to the screen, that made this film worth seeing. Even with its limitations, Sorcerer is a good effort from Friedkin and he manages to keep you involved with constant twists and turns with the story. There some memorable scenes that Friedkin captures with his camera, especially the bridge crossing scene, which for me the standout of the film. Sorcerer has every ingredient necessary to make for a well crafted action flick, and then you won't be disappointed by this one. I think that Scheider delivered a better performance in Friedkin's French Connection, but in regard, he does deliver a great performance here as well. However, many cinema buffs can agree that his standout role, the defining role of his career was in Spielberg's 1975 Horror, thriller Jaws. Sorcerer is a film that soars above its weaknesses and provides the excitement that films of this period did all too well. Nowadays, we get action films that don't have any heart, but in the 70's, we had a plateau of unforgettable films that are still worth seeing today, and manage to hold very well compared to other films of today. This may not be William Friedkin's masterpiece, but he does manage to hit all the right notes, which has made him a standout director of memorable movies.
Being an immense fan of the Clouzot's Wages of Fear, coupled with knowing Friedkin's hubris, made me not to thrilled to give this movie a whirl. However, my love for Scheider got the best of me and I finally spent some time with the film. And man am I glad I did. Does Friedkin ratchet up the suspense that makes the original feel stodgy? Never. But he does come pretty damn close and some scenes are pretty impressive to watch. While he misses capturing the desperation that is the focus of the original, Friedkin still focuses on greed as the prime motivation for these men. Unfortunately, he gives few captivating moments of how American economic exploits are tearing apart this Nicaraguan town and misses what I think were many good opportunities to really drive his point home. Yet, he seems less determined to make a statement and more intent on just taking the audience on one hell of a thrill ride. Sadly, this also means that we are kept at a distance from getting emotionally involved with these characters, even though Friedkin takes the time to give us a detailed backstory for most of them. On the whole, the film takes a different route than the original. It forgoes a message about economic greed and corporate domination, and really tries to give us a solid thriller. While his vision doesn't make for a breathtaking film, it is still a strong effort from Friedkin.
As the characters in the picture, maybe William Friedkin was doomed from the instant he decided to tempt providence going back to H.G Clouzot's masterpiece. His most ambicious project was, from early stages, development hell, plus a terrible distribution date that condemned it to be a flop, but worst things happened when the studio re cut it, and took away a lot of important footage, that's why from the moment this group of expendables aboard their vehicles and start their ordeal the rhythm of storytelling feels broken, with not enough interaction between them as in the original film. Nevertheless, it does justice to the original. some sequences are impressive, the suspense reached is almost unbearable, and Friedkin's trademark gritty documentary style suits the story perfectly. Tangerine Dream's soundtrack is classic, and Roy Scheider performance as a psychotic, world-weary fugitive is simply badass. One of those remakes done with passion and enough originality to be taken into account, rescued from obscurity.
Pierluigi Puccini
Super Reviewer
Sorcerer Quotes
There are no approved quotes yet for this movie.