Spartacus
(1960)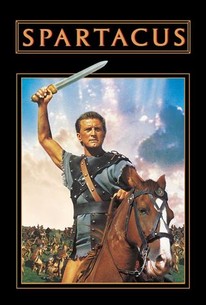 Movie Info
Spartacus (Kirk Douglas) is a rebellious slave purchased by Lentulus Batiatus (Peter Ustinov), owner of a school for gladiators. For the entertainment of corrupt Roman senator Marcus Licinius Crassus (Laurence Olivier), Batiatus' gladiators are to stage a fight to the death. On the night before the event, the enslaved trainees are "rewarded" with female companionship. Spartacus' companion for the evening is Varinia (Jean Simmons), a slave from Brittania. When Spartacus later learns that Varinia has been sold to Crassus, he leads 78 fellow gladiators in revolt. Word of the rebellion spreads like wildfire, and soon Spartacus' army numbers in the hundreds. Escaping to join his cause is Varinia, who has fallen in love with Spartacus, and another of Crassus' house slaves, the sensitive Antoninus (Tony Curtis). The revolt becomes the principal cog in the wheel of a political struggle between Crassus and a more temperate senator named Gracchus (Charles Laughton). Anthony Mann was the original director of Spartacus, eventually replaced by Stanley Kubrick, who'd previously guided Douglas through Paths of Glory. The film received 4 Academy Awards, including Best Supporting Actor for Ustinov. A crucial scene between Olivier and Curtis, removed from the 1967 reissue because of its subtle homosexual implications, was restored in 1991, with a newly recorded soundtrack featuring Curtis as his younger self and Anthony Hopkins standing in for the deceased Olivier. ~ Hal Erickson, Rovi
News & Interviews for Spartacus
Critic Reviews for Spartacus
Audience Reviews for Spartacus
The only film that Kubrick didn't have control of, this sumptuous and forever influential sword-and-sandal epic balances quite well its campy moments with scenes of dramatic intensity but also has a messy script full of moralizing and confusing behavior from most of its characters.
Carlos Magalhães
Super Reviewer
Stanley Kubrick's Spartacus is a defining classic that has withstood the test of time. Brilliantly acted and directed, this is one of the best epics that combines action, drama and romance. This is a stunning work of cinematic genius that is a must see for cinema fans of all ages looking for a terrific, well acted and brilliantly directed film with rousing action, thrills and a compelling story. This is among Kubrick's greatest works. This is a majestic piece of cinema, and remains one of the standout classics along with such works as Ben- Hur and Lawrence of Arabia. This is an epic film that is grand in scale and scope. This is a picture that only Stanley Kubrick could have directed. With a terrific cast of outstanding talent, this is a powerful work that delivers exciting visuals, great battles and memorable performances. Kirk Douglas delivers on-screen and his role is among the most famous roles in the long history of cinema. This is a wonderful film that is sure to please cinema buffs everywhere and it is among the greatest films ever made as well. The film is truly entertaining from start to finish right up to the unforgettable climax. This epic has had a profound impact on genre films for years to come, and though no film has surpassed the greatness of Spartacus, many pictures have been influenced by Kubrick's classic. A brilliant, compelling and unforgettable film that is among the greatest films ever made. A must see for serious film fans. This film is worth watching for Kirk Douglas performance alone, and there's plenty of aspects that stand out about this work. Stanley Kubrick would aim bigger and better with this film, and it set the stage for future films in Kubrick's long and legendary career.
½
A seminal classic of sorts. One that is of true, simple story about injustice, the absurd and of freedom. Quite the riveting movie with the fitting mood and atmosphere and elegant drama to drive its archetypal hero. It's both tragic and triumphant, and bravely courageous.
Adriel Lim
Super Reviewer
Spartacus Quotes
| | |
| --- | --- |
| Julius Caesar: | I thought you had no reservations about the gods. |
| Sempronius Gracchus: | Privately I believe in none. Neither do you. Publicly I believe in them all. |
| | |
| --- | --- |
| Spartacus: | He'll be back, he'll back and he'll be millions. |
| | |
| --- | --- |
| Varinia: | And neither am I! |
| | |
| --- | --- |
| Spartacus: | I'm not an animal! |