Spring Break
(1983)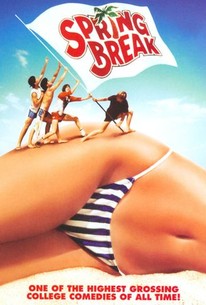 Movie Info
Sand, surf, sun, and sex alternate in this bikini-clad movie about student lemmings heading to the sea at Ft. Lauderdale, Florida, the moment the last test is taken (and sometimes before). This time, Nelson (David Knell) and his three friends get into various types of innocent trouble while Nelson tries to evade his overbearing stepfather. Wet T-shirt contests vie for attention with bikini and He-shirt contests and a Playboy centerfold, but other than a fairly standard venting of pent-up energy, there is not much else to remember about this Spring Break.
Critic Reviews for Spring Break
Audience Reviews for Spring Break
Just another predictable college themed movie where the guys go on spring break and crazy things happen. Some of it is funny, but most of it isn't. Overall, just okay.
½
The title is misleading, it should have been called Skin Break instead. The film has minimal laughs and it covers ground that other college comedies have already done better. This isn't a bad film, but it seems to borrow on plenty of other comedy films of this era to create something "original" Still despite this, in the end this film is harmless fun. Theres a few funny bits, not really laugh out loud moments, but still a few parts that make you smile and laugh. The end result of Spring Break is a merely decent comedy film with a few laughs here and there, but don't expect anything hilarious in the Caddyshack style.
Spring Break Quotes
There are no approved quotes yet for this movie.