Stagecoach
(1939)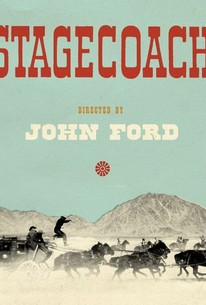 TOMATOMETER
AUDIENCE SCORE
Critic Consensus: Typifying the best that the Western genre has to offer, Stagecoach is a rip-roaring adventure given dramatic heft by John Ford's dynamic direction and John Wayne's mesmerizing star turn.
Movie Info
Although there were Westerns before it, Stagecoach quickly became a template for all movie Westerns to come. Director John Ford combined action, drama, humor, and a set of well-drawn characters in the story of a stagecoach set to leave Tonto, New Mexico for a distant settlement in Lordsburg, with a diverse set of passengers on board. Dallas (Claire Trevor) is a woman with a scandalous past who has been driven out of town by the high-minded ladies of the community. Lucy Mallory (Louise Platt) is the wife of a cavalry officer stationed in Lordsburg, and she's determined to be with him. Hatfield (John Carradine) is a smooth-talking cardsharp who claims to be along to "protect" Lucy, although he seems to have romantic intentions. Dr. Boone (Thomas Mitchell) is a self-styled philosopher, a drunkard, and a physician who's been stripped of his license. Mr. Peacock (Donald Meek) is a slightly nervous whiskey salesman (and, not surprisingly, Dr. Boone's new best friend). Gatewood (Berton Churchill) is a crooked banker who needs to get out of town. Buck (Andy Devine) is the hayseed stage driver, and Sheriff Wilcox (George Bancroft) is along to offer protection and keep an eye peeled for the Ringo Kid (John Wayne), a well-known outlaw who has just broken out of jail. While Wilcox does find Ringo, a principled man who gives himself up without a fight, the real danger lies farther down the trail, where a band of Apaches, led by Geronimo, could attack at any time. Stagecoach offers plenty of cowboys, Indians, shootouts, and chases, aided by Yakima Canutt's remarkable stunt work and Bert Glennon's majestic photography of Ford's beloved Monument Valley. It also offers a strong screenplay by Dudley Nichols with plenty of room for the cast to show its stuff. John Wayne's performance made him a star after years as a B-Western leading man, and Thomas Mitchell won an Oscar for what could have been just another comic relief role. Thousands of films have followed Stagecoach's path, but no has ever improved on its formula.
News & Interviews for Stagecoach
Critic Reviews for Stagecoach
Audience Reviews for Stagecoach
How riveting it is to be immersed in this classic influential Western that is not only entertaining and exciting but is above all a sincere story that always rings true with its unforgettable gallery of three-dimensional characters who grow on us and make us care so much about them.
Carlos Magalhães
Super Reviewer
½
A stagecoach containing a disparate assortment of characters comes under Indian attack. John Ford revolutionized the genre with this beautifully crafted western and John Wayne was catapulted to stardom for his performance as the vengeance seeking gunfighter caught up in defending a group of strangers. But for me, the film is all about Thomas Mitchell as his preferred typecast of intellectual drunkard although it's one of many wonderful performances as the faultless cast represent a hugely likeable bunch and offer Ford an opportunity to highlight social prejudices. The message is to never judge a book by its cover as outlaws can be honourable, "fallen women" can be thoughtful and considerate, drunks can be courageous and respected gentlemen can be crooks. Also featuring some ground breaking stuntwork, this story has been remade many times and its influence can be seen in everything from the work of Akira Kurosawa to The Breakfast Club and it still stands up as one of the very best of the genre.
½
I realize that my review is going to be considered controversial, but listen, this is all just my opinion. I do love westerns. They are an American institution, and, by and large, have proven to be perhaps the only genre films that are truly uniquely American. Having said that, this film is overrated. Yes, it wasn't the first western, but it pretty much defined the genre and set the standard for basically every film to follow for the new few decades until revisionism hit starting in the late 60s. This put both John Ford and John Wayne on the map, making icons and legends out of them, but c'mon, if you strip away all of the historical, culutral, and aesthetic significances, and ignore the film's influence and legacy, it's really not all that special or interesting. Don't get me wrong, it's good, but it really hasn't held up that well. Perhaps I'd feel a lot differently had this been the first western I ever saw, but since it is so old, and things have changed so much since then, I can't help but kinda take this for granted by default. The plot follows nine travelers thrust together on the titular vehicle as they make their way across the west through the dangerous Apache Territory, and how they must all band together if they want to survive. Okay, so fine, the plot's not much, but the performances do slightly make up for it, and yeah, it looks decent, and the music is really good, and the stunts and action are okay, but I can't let myself get swept up in everything and give this one a high rating by default. I'll admit that I've done that sort of thing in the past, and maybe I need to be more honest and make some reconsiderations, but for now, with this one, I'm standing my ground and saying that yes, while this is a landmark film, it's not a masterpiece when taken solely on its own terms.
Chris Weber
Super Reviewer
Stagecoach Quotes
There are no approved quotes yet for this movie.