Stage Fright
(1950)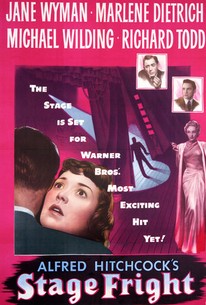 Movie Info
Jonathan Cooper is wanted by the police who suspect him of killing his lover's husband. His friend Eve Gill offers to hide him and Jonathan explains to her that his lover, actress Charlotte Inwood is the real murderer. Eve decides to investigate for herself, but when she meets the detective in charge of the case, she starts to fall in love.
Critic Reviews for Stage Fright
Audience Reviews for Stage Fright
When I first started watching Alfred Hitchcock's movies, I would pretend I was part of an alien race that was going to pillage Planet Hitchcock. Not really, but go with it. I'd start with the classic major cities (Psycho, Vertigo, North By Northwest), then work my way out to the smaller but still happening cities (Rope, The Trouble With Harry, The Birds.) But lately I'm sifting through the lesser cities. The dull ones that serve egg noodles with ketchup and try to pass it off as spaghetti with marinara sauce. The towns that close by six, have two traffic lights and are 40 miles from the nearest Wal-Mart. I'm not going to go as far as to accuse Stage Fright of being the geographic equivalent of the armpit of the world, it sure as hell isn't a Fresno, CA! Stage Fright more or less wears into territory that Hitchcock spent a lot of time walking upon with the innocent being chased while trying to disprove their guilt. Here he does so from a different perspective with a woman trying to prove the innocence of the object of her affection. Stage Fright's cast is pretty good (normally I can't stand Jane Wyman but she's not bad here) but Alastair Sim steals the show as Wyman's father and makes the movie pretty damn funny at points. Stage Fright did little to make me wonder if the rest of Planet Hitchcock was worth conquering but it could always be worse. It could be Planet Bay or Planet Shyamalan. And we all know that the crappiest towns on Planet Hitchcock are still better than the meccas on those hellholes.
Michael Gildea
Super Reviewer
I watched it only because it was going off of Netflix streaming. I just for the life of me could not get into this film. I wasn't invested in any character or interested in the story at all. Even with Marlene Dietrich in it. I'm not even sure if at the end I really knew all what was going on. Sorry, I am just not a Hitchcock girl for the most part...
Jennifer D
Super Reviewer
This is such a creative and fun mystery movie. Sometimes it's a little confusing maybe, but in the end it's worth it. For some reason this is a lesser known Hitchcock movie, but it's one of my favourites, and I highly recommend it.
Stage Fright Quotes
There are no approved quotes yet for this movie.