A Star Is Born
(1954)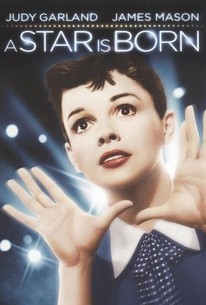 Movie Info
The 1954 musical remake of A Star is Born could have been titled A Star is Reborn, in that it represented the triumphal return to the screen of Judy Garland after a four-year absence. The remake adheres closely to the plotline of the 1937 original: An alcoholic film star, on his last professional legs, gives a career boost to a unknown aspiring actress. The two marry, whereupon her fame and fortune rises while his spirals sharply downward. Unable to accept this, the male star crawls deeper into the bottle. The wife tearfully decides to give up her own career to care for her husband. To spare her this fate, the husband chivalrously commits suicide. His wife is inconsolable at first, but is urged to go "on with the show" in memory of her late husband. In the original, Janet Gaynor played Esther Blodgett, who with no training or contacts came to Hollywood hoping for stardom. The remake, scripted by Moss Hart, is a shade more realistic: Garland's Esther, though far removed from fame, is a working professional singer/dancer when first we meet her. Both Gaynor and Garland are transformed from "Esther Blodgett" to "Vicki Lester" after being screen-tested, though Gaynor goes on to star in fluffy costume dramas while Garland more logically headlines big-budget musicals. The 1937 Star is Born costarred Fredric March as Norman Maine, Esther/Vicki's sponsor-cum-spouse. March patterned his performance after the tragic John Barrymore, reining in his emotions in favor of pure technique; James Mason's interpretation is more original, more emotional, and far more effective (who can forget the scene where Norman sobbingly overhears Vicki planning to give up her career for his sake?) As the studio's long-suffering publicist, the 1937 version's Lionel Stander is more abrasive and unpleasant than the 1954 version's introspective, intellectual Jack Carson; on the other hand, Adolphe Menjou and Charles Bickford are fairly evenly matched in the role of the studio head. Several important omissions are made in the remake. The 1937 Star is Born included Esther's indomitable old grandma (May Robson), a helpful assistant director (Andy Devine) and a soft-hearted landlord (Edgar Kennedy); all three characters are missing from the 1954 version, though elements of each can be found in the "best friend/severest critic" character played by Tommy Noonan. Wisely, both versions end with the grieving Vicki Lester coming out of her shell at a public gathering, greeting the audience with a proud, defiant "Good evening, everybody. This is Mrs. Norman Maine". Though directors William Wellman (1937 version) and George Cukor (1954 version) handle this finale in their own distinctive manners, the end result is equally effective emotionally. What truly sets the 1954 A Star is Born apart from other films of its ilk is its magnificent musical score by Harold Arlen and Ira Gershwin. The songs include The Man Who Got Away (brilliantly performed by Garland in one long take, sans dubbing), It's a New World, Somewhere There's a Someone, I Was Born in a Trunk, Lose That Long Face and Gotta Have Me Go With You. When originally previewed in 1954, the film ran well over three hours, thanks to the lengthy-and thoroughly disposable-Born in a Trunk number, added to the film as an afterthought without the approval or participation of director George Cukor. The Warner Bros. executives trimmed the film to 154 minutes, eliminating three top-rank musical numbers and several crucial expository sequences (including Norman's proposal to Vicki). At the instigation of the late film historian Ronald Haver, the full version was painstakingly restored in 1983, with outtakes and still photos bridging the "lost" footage. Though nominated in several categories, A Star is Born was left empty-handed at Academy Award time, an oversight that caused outrage then and still rankles Judy Garland fans to this day (Footnote: Judy Garland had previously played Vicki Lester in a 1942 Lux Radio Theatre adaptation of the original A Star is Born). ~ Hal Erickson, Rovi
News & Interviews for A Star Is Born
Critic Reviews for A Star Is Born
Audience Reviews for A Star Is Born
½
Forget the 1937 version, this is a much superior remake that does right everything (except for that awful last line) that the original film did wrong (at least for later standards), with Garland in a stellar performance especially during her "Someone at Last" number in the living room.
Carlos Magalhães
Super Reviewer
A has-been actor introduces and later marries a singer/actress. An epic, grandiose, and timeless tale, George Cukor's remake of A Star Is Born is a fantastic tour de force for its stars and is a visual delight. The film's actors, Judy Garland and James Mason, are in top form (though I can't help noting how singularly similar Garland is to her daughter, Liza Minnelli; at times I didn't know whom I was watching). The spectacle of some of the musical numbers, which at times might be over-long, is beyond compare, and at its heart, the film is a very human story. Oddly feminist, the film privileges Vicki Lester's success over that of her husband, but at the same time there is no doubt that she could not have made it on her talent alone. Is this a condemnation of the business or latent misogyny? Overall, whatever the film's meandering flaws may be, it is nonetheless a classic for a very good reason.
Jim Hunter
Super Reviewer
½
Altough slow at times, a Perfect movie. How Judy Garland could have lost this oscar is unbelievable. One of the best performances of all time!
Morgan Salem
Super Reviewer