A Streetcar Named Desire
(1951)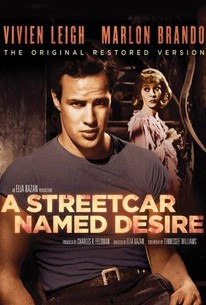 TOMATOMETER
AUDIENCE SCORE
Critic Consensus: A feverish rendition of a heart-rending story, A Streetcar Named Desire gives Tennessee Williams' stage play explosive power on the screen thanks to Elia Kazan's searing direction and a sterling ensemble at the peak of their craft.
A Streetcar Named Desire Photos
Movie Info
In the classic play by Tennessee Williams, brought to the screen by Elia Kazan, faded Southern belle Blanche DuBois (Vivien Leigh) comes to visit her pregnant sister, Stella (Kim Hunter), in a seedy section of New Orleans. Stella's boorish husband, Stanley Kowalski (Marlon Brando), not only regards Blanche's aristocratic affectations as a royal pain but also thinks she's holding out on inheritance money that rightfully belongs to Stella. On the fringes of sanity, Blanche is trying to forget her checkered past and start life anew. Attracted to Stanley's friend Mitch (Karl Malden), she glosses over the less savory incidents in her past, but she soon discovers that she cannot outrun that past, and the stage is set for her final, brutal confrontation with her brother-in-law. Brando, Hunter, and Malden had all starred in the original Broadway version of Streetcar, although the original Blanche had been Jessica Tandy. Brando lost out to Humphrey Bogart for the 1951 Best Actor Oscar, but Leigh, Hunter, and Malden all won Oscars. ~ Hal Erickson, Rovi
News & Interviews for A Streetcar Named Desire
Critic Reviews for A Streetcar Named Desire
Audience Reviews for A Streetcar Named Desire
½
Apart from the wonderful dialogue and fabulous score, the most fascinating in this outstanding classic is how it contrasts the naturalistic composition of Brando with the affected mannerisms of Leigh, who breaks our hearts as a terribly miserable and emotionally fractured woman.
Carlos Magalhães
Super Reviewer
½
Stanley Kowalski: You think I'm gonna interfere with you?... You know, maybe you wouldn't be bad to interfere with.  "When she got there she met the brute Stan, and the side of New Orleans she hardly knew existed." I just watched this for the third time in an English class, and it reminded me of why I seldom watch movies with my friends. None of them liked this movie. It's too talky for them. There's not much in the ways of action or humor(at least, the over the top humor we are given today), and if there isn't action and humor; I guess it isn't a good movie. Movies like A Streetcar Named Desire are the types of films I like to watch. Marlon Brando, Vivien Leigh, and Elia Kazan; this is filmmaking at its best. Sure this adaption switches some things up in order to not be too much for the 1950's audience and it suffers somewhat because of that, but this is still one hell of an achievement.  Marlon Brando gives one of his best performances of his amazing career as the greasy and caveman like Stanley. The rest of the performances seem over the top in comparison to his perfect performance, but for the time, that wasn't  unusual; especially since this is an adaption of a play and in plays, the acting is normally melodramatic. The underlying themes are well done here. The sexuality is ever present, while still remaining restrained enough for the easily offended audience of that time period.  Despite some changes, especially the ending, the major themes are realized and the picture as a whole doesn't suffer too much from them. A Streetcar Named Desire is another one of those must see films for film buffs. You see the movie everywhere in pop culture especially Brando's famous yelling, "Hey, Stella!" It's an extremely important film, not just for filmmaking in general, but for storytelling. 
Melvin White
Super Reviewer
½
As I was watching this, I quickly realized that it was basically just a melodramatic soap opera that made me uncomfortable and pissed because the characters are so horrible and pathetic, albeit a meoldramatic soap opera that was artistically executed and filled with excellent performances. I kinda feel bad i enjoyed this. In a lot of ways, this is kind of like, to use that old cliche, a bad car wreck. It's not pleasant, but you can't help but look. The story concerns a fading beauty who is delusional and unwilling to accept reality and come to terms with the fact that, as a member of the Old South, she is no longer socially dominant and she can't stay or look young forever. This lady is named Blanche. She comes to one of the seedier sides of New Orleans to stay with her pregnant sister Stella and volatile brother-in-law Stanley. Stanley a Polish American blue collar worker, is down to Earth, brutally honest, and immediately gets into a class conflict with Blanche, hating her for her pretenses, delusions, and her issues, mostly that of dealing with her past and comeing to terms with reality. Then there's poor Stella, hopelessly caught in the middle. When she does take a side, there's some real potent social commentary due to which side she chooses, and how this might be an even worse choice than the other. Under normal circumstances, the audience might side with Stanley. He is after, seemingly a voice of reason and practicality. However, he is a true beast. He's hateful, abusive, sadistic, and really hard to sympathize with. He's a real force of nature, and it is damn hard to not get caught up in this juicy but ugly world the characters inhabit. If this wasn't so well written and acted, and if it didn't have such wonderful cinematography and art direction, I'd probably hate it. It is cruel, ugly, and depressing. The music is a little bit on the nose, but it works decently enough, I suppose. The audience can't really sympathize too much with the characters, but no one can say that they don't know of people or situations like this. It's a real shame that Brando got snubbed here, because, even though he's a real scum bag, he does any excellent job at being that way. Hunter is good as the 'caught in a crossfire' Stella, and, even though Leigh is guilty of some overacting here and there, I do think she did a really nice job as Blanche. This film might seem rather pointless, because, well, look what I've said about it so far. But it merits watching because life is like the way it is portrayed here sometimes. We all have these elements to our own characters and personalities. It's just that here, each character represents an extreme of those various qualities. Given the film's age, you might, if you wanted to, be able to look at it as not only high brow, artsy soap opera, but as that with some real campy qualities as well. It takes a lot of talent to make this type of story and subject matter redeemable in some way. Thankfully Kazan and Co, pulled it off wonderfully.
Chris Weber
Super Reviewer
A Streetcar Named Desire Quotes
| | |
| --- | --- |
| Blanche Dubois: | I have always depended on the kindness of strangers. |
| | |
| --- | --- |
| Stanley Kowalski: | Stella! Hey, Stella! |
| | |
| --- | --- |
| Blanche Dubois: | Tell us a funny little story stanley, somthing to help us out |
| Blanche Dubois: | Tell us a funny little story stanley, somthing to help us out. |
| Stella Kowalski: | I didn't think you like my stories Blanche |
| Stella Kowalski: | I didn't think you like my stories Blanche. |
| Blanche Dubois: | I like them when there amusing but not indecent |
| Blanche Dubois: | I like them when there amusing but not indecent. |
| Stanley Kowalski: | I don't know any refine enough for your taste |
| Stanley Kowalski: | I don't know any refine enough for your taste. |