Suddenly
(1954)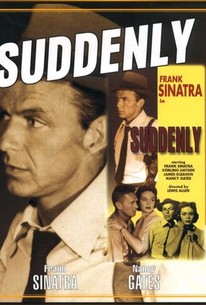 Movie Info
Frank Sinatra is riveting as a cold-hearted assassin in this taut thriller.
Critic Reviews for Suddenly
Audience Reviews for Suddenly
½
Sinatra and Hayden both do well in this taut little living-room thriller about big city assassins come to a small town. This one flies under the radar for the most part, but you'll be surprised if you take the time to seek it out. Also, included in the usual 50's style hyper-seriousness, is the mysterious Paul Frees, voiceover artist extrordinaire of a thousand and one television productions in one of his few onscreen appearances. See if you can spot him by just his voice. Sinatra really does shine as the little guy with a quick gun too.
Kevin M. Williams
Super Reviewer
In spite of the fact that I've seen Frank Sinatra in a wide variety of roles, I was nonetheless surprised and captivated by his performance in Suddenly. I had never heard of this 1954 film before, but I found it in a used bin at a good price so bought it. The film itself is a good, tense thriller about an attempted assassination of the president, but don't get this confused with The Manchurian Candidate. Sinatra's enthusiastic performance as the gleeful psychotic hit-man is really all this picture's got going for it. The rest is pretty standard. The theme is that there are unrepentant, amoral killers out there, but they're the exception not the rule. Sterling Hayden's character, the Sherriff is presented as the sacrificing hero- the GI who only does what has to be done. Sinatra's character is someone who enjoys killing-not standard, even among outlaws and gangsters.
Clintus Maximus
Super Reviewer
A very interesting movie a thriller and a political drama, plus a good cast and story. I really liked it.
Suddenly Quotes
There are no approved quotes yet for this movie.