Summer School
(1987)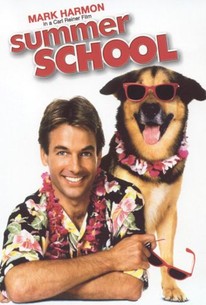 Movie Info
On the eve of his Hawaiian vacation, irresponsible high school teacher Freddy Shoop (Mark Harmon) is forced into teaching a summer-school class. His students are all malcontents and layabouts with the standard repertoire of teenaged hang-ups and hostilities (two of the kids, who can't see enough slasher movies to suit them, are hilarious precursors to Beavis and Butt-Head). Harmon would rather spend his time with history teacher Robin Bishop (Kirstie Alley), but she doesn't think much of his laziness and lack of dedication. Shoop finally begins to take his job seriously when he realizes his students' problems are not all of their own making.
News & Interviews for Summer School
Critic Reviews for Summer School
Audience Reviews for Summer School
As an 80's movie fan, this is one I have always wanted to check out. Somehow I never heard of it at the time and I can't recall even seeing it on VHS back in the day, or would have definitely rented it. Firstly, the version I saw was free to air on tv late at night. So I understand parts of the movie would have been cut or edited for tv. Maybe it caused me to enjoy it less. I can't imagine I would feel too differently about a longer version though. This was pretty average considering the ratings. I liked Courtney Thorne Smith. She was about the best thing in it. The guys were all really douchey. The storyline was far fetched. I think movies like Fast Times at Ridgemont high did these types of characters better. I suspect this is a nostalgia favourite. I have a few of them myself from the 80's. Movies I know are bad, but I loved them at the time and they remind me of that era.
Nicki Marie
Super Reviewer
I passed this while channel skipping on TV, and it looked like a young Jethro Gibbs. Sure enough Gibbs (Mark Harmon) - 25 years younger - is the main actor in this movie about a phys-ed teacher getting through to a bunch of remedial students.
½
Cast: Mark Harmon, Kirstie Alley, Robin Thomas, Patrick Labyorteaux, Courtney Thorne-Smith, Dean Cameron, Gary Riley, Kelly Jo Minter, Richard Steven Horvitz, Fabiana Udenio, Francis X. McCarthy, Tom Troupe, Lucy Lee Flippin, Ken Olandt, Shawnee Smith Director: Carl Reiner Summary: When school lets out for the summer, gym teacher Freddy Shoop can't wait to hightail it to Hawaii with his girlfriend for a vacation. But when the teacher who's supposed to teach remedial English wins the lottery, Shoop gets roped into the job. My Thoughts: "One of my favorites from the 80's. It's funny, silly, and predictable. The character's are not that fascinating, but they're fun and so is the movie. The movie always puts me in a good mood after seeing it. It's a reminder of how simple a great teen comedy film use to be before it was all about sex and drugs. Just a simple fun film. See it if you haven't had the chance and if your a fan of 80's cinema like myself."
♥˩ƳИИ ƜѲѲƉƧ♥
Super Reviewer
Summer School Quotes
| | |
| --- | --- |
| Freddy Shoop: | I'll be damned, you're a heterosexual. |
| Principal Kelban: | And a damned good one. |
| | |
| --- | --- |
| Denise Green: | Whatever that files says... its a lie. |
| Robin Bishop History Teacher: | Do you all think you could concentrate on some obscene gestures once in a while? |
| | |
| --- | --- |
| Freddy Shoop: | I'm going to Hawaii. |
| Mr. Dearadorian: | Thats alright, these aren't real students. |
| Robin Bishop History Teacher: | Why am I here, Oh, thumbtacks. |