Suspect
(1987)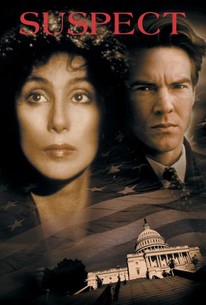 Movie Info
In the thriller Suspect, a public defender (Cher) has to defend a homeless deaf man who is unjustly accused of murder. One of the jurors (Dennis Quaid) is a lobbyist who illegally begins investigating the case, and soon the two uncover a government conspiracy, in which the murder played a part.
Critic Reviews for Suspect
Audience Reviews for Suspect
Ahh a film from 1987 when Cher was looking go without any Nip and Tuck, and gas was 87 cents a gallon, sign seen in background. Funny and hard to imagine a time without cell phones where if you wanted to make a call you had to use a pay phone. Early in Liam Neeson career to see him as a homeless deaf and dumb person who is accused of murder and Cher is his public defender. Dennis Quaid is on the jury but also providing Cher with information to help her case. A very enjoyable film one I missed when it was on the big screen, worth the sit-down, 4 Stars 3-20-12
Bruce Bruce
Super Reviewer
I saw this on TV some time ago, I barely remember it, but I remember that it was a good courtroom drama and thriller, with a good cast. It's good.
Cast: Cher, Dennis Quaid, Liam Neeson, John Mahoney, Joe Mantegna, Fred Melamed, Philip Bosco, Michael Beach, Bill Cobbs Director: Peter Yates Summary: When a Supreme Court judge commits suicide and his secretary is found murdered, all fingers point to Carl Anderson (Liam Neeson), a homeless veteran who's deaf and mute. But when public defender Kathleen Riley (Cher) is assigned to his case, she begins to believe that Anderson may actually be innocent. Juror Eddie Sanger (Dennis Quaid), a Washington lobbyist, agrees, and together the pair begins their own investigation of events. My Thoughts: "It was a decent suspense/thriller. The film had a good pace, never leaving you bored. The performances were good by all. The ending is a bit of a twist. I was surprised. I loved Dennis Quaid in this, and it was interesting seeing Cher play a lawyer of all things. A good mystery film worth checking out at least once."
♥˩ƳИИ ƜѲѲƉƧ♥
Super Reviewer
Suspect Quotes
| | |
| --- | --- |
| Kathleen Riley: | Does my hair look brown to you? |
| Eddie Sanger: | You asked me what color your hair was. I thought you wanted the real color. |
| | |
| --- | --- |
| Kathleen Riley: | Does my hair look brown to you? |
| Eddie Sanger: | You asked me what color your hair was. I thought you wanted the real color. |