Suspicion
(1941)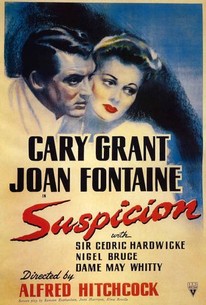 TOMATOMETER
AUDIENCE SCORE
Critic Consensus: Not even notorious studio meddling can diminish the craft and tantalizing suspense of Suspicion, a sly showcase for Joan Fontaine's nervy prowess and Alfred Hitchcock's flair for disquiet.
Movie Info
This Alfred Hitchcock mystery has an unusually lighthearted touch, but it still has plenty of suspense. A wealthy woman marries a charming wastrel and soon makes some unsettling discoveries about him. When his business partner turns up dead, she suspects her husband of murder and fears she may be next.
Critic Reviews for Suspicion
Audience Reviews for Suspicion
½
The romance between the two characters is developed in a clumsy way in the beginning, but soon the film grows to become a nice, taut thriller directed with a firm grip by Hitchcock, who builds a gripping suspense that only disappoints in the end with a silly, frustrating payoff.
Carlos Magalhães
Super Reviewer
½
A bookish young woman rashly marries a charming playboy but mounting circumstantial evidence of wrongdoing leads her to fear for her life. In this early project by the master of suspense, Hitchcock takes the formula of the breezy screwball romance and turns it on its head. The early scenes could be from any other romantic comedy from the golden age, but he uses his usual tools of misdirection, doubt and paranoia to slowly build the suspense until the sweet and innocent Joan Fontaine becomes convinced that her new husband is a murderer intent on killing her for her inheritance. There are some classic Hitchcock moments, the highlight being the way he manages to make a glass of milk menacing and it deals with one of his favourite subjects, namely psychology. To a modern viewer, it seems obvious that Johnny is manic depressive. Cedric Hardwicke is on hand to supply some comic relief in his trademark affable old duffer persona and it's all very watchable. It doesn't rank amongst his best however, as Grant is far more comfortable as charming romantic lead than suspected assassin and the conclusion is resolved far too quickly and conveniently making the similar Rebecca a more satisfying experience as a whole.
One of many pairings between Hitch and Grant. This one sees Cary play against type as a scheming playboy who sweeps Joan Fontaine's wealthy wallflower named Lina off her feet and into an initially nice romantic marriage. However, she soon becomes suspicious and begins to think that her husbands reputation of being a gold digger might be true, which obviously would make her his next target. The film is rather slow burning, but it's a fairly solid mix of romance, mystery, and suspense. It takes a bit to get into it and really get involved, but once that happens, this is a really enjoyable film. The ending is kinda a mixed bag, but it's a fun ride nonetheless, especially since the film does a great job of towing the line between whether or not Lina's suspicions are true or not. Add in some great production vlaues and special effects, and you've got yourself a winning film. I might be slightly inflating my grade on this one, but even then, this is still a strong movie that you should make a point to check out.
Chris Weber
Super Reviewer
Suspicion Quotes
There are no approved quotes yet for this movie.