Svengali
(1931)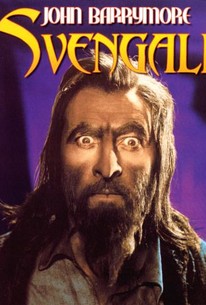 Movie Info
A charismatic music teacher mesmerizes his best student and turns her into big star. Unfortunately, his plan backfires a bit, for she can only sing when he is near her. The story is based on Du Maurier's novel Trilby.
Critic Reviews for Svengali
Audience Reviews for Svengali
Great story, actors, and the ending is perfect. I loved this movie.
Svengali is a really weird "Horror" movie that is just really creepy, thanks to a great performance from veteran thespian John Barrymore. I had a really good time watching the really eerie performance and catching all of the stuff that was left in the film since this was released in that weird period before the Film Code. Marian Marsh is really hot in this movie, and she should be, since she is playing the love interest. The acting alone makes this movie stand out, but the art and set direction is amazing. Sets, beautiful. Cinematography, beautiful. This is almost a perfect black and white, early Hollywood movie, I just cant put my finger on what is not so great about it. The movie is about a girl, Trilby, who comes to Paris to make something of her life. She meets a few artists and begins to fall in love with one of them, but Svengali swoops in. Svengali is a composer and magician who entrances Trilby and sweeps her away and out of the Artists life. The artist will desperately try to find his lost love even if he has to go through... SVENGALI!!! This is a real treat for those who love John Barrymore, don't fret though. This isn't the last time you get to see this great actor take the reigns of horror. I will be getting to the next movie that he made this same year real soon. The movie is really not scary but you get a general creepiness from it that I think you would really like. 6 of 10 on the old meter! Thats all for now kiddies Svenjolly S!D
Brandon Siddall
Super Reviewer
Svengali Quotes
There are no approved quotes yet for this movie.