Sweet Bird of Youth
(1962)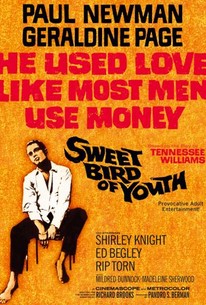 Sweet Bird of Youth Photos
Movie Info
This film version of the play by Tennessee Williams is considerably toned down in comparison to the original production. Chance Wayne (Paul Newman) is an aspiring movie actor brimming with self confidence. He meets a fading movie queen named Alexandra Del Lago (Geraldine Page), whose recent screen failures are alleviated by sex, drugs and booze. She agrees to help the young actor by bringing him to Hollywood to meet "all the right people." The two stop over in Chance's hometown on their way out West. Chance's presence alarms local politician Boss Finley (Ed Begley), whose daughter Heavenly Finley (Shirley Knight) was impregnated by Chance some years earlier. Her reputation remained unsullied due to a secret abortion, but she still carries the torch for Chance. Boss Finley recruits his son Thomas (Rip Torn) to "welcome" Chance back to town. Chance is beaten to a bloody pulp by Thomas and his hired goons. At the same time, Alexandra's career is rejuvenated by a movie she thought would be a box office disaster. She cleans up her act and dreams of making a comeback in Hollywood. Ed Begley won an Oscar for best supporting actor, while Shirley Knight and Geraldine Page were nominated for the Academy Award for their performances. Chance didn't get off so easily in the stage version as he was castrated by the angry mob. This was eliminated from the film version. Despite the changes, Sweet Bird Of Youth remains a gripping, suspenseful film.
Critic Reviews for Sweet Bird of Youth
Audience Reviews for Sweet Bird of Youth
Newman does Tennessee Williams very well and he does tremendously well in Sweet Bird of Youth. He is the ultimate hustler who meets obstacles that he can't overcome. Brilliant.
John Ballantine
Super Reviewer
Sweet Bird of Youth is structured like a resurrection tale. Chance Wayne is thrown into all types of abasement, dragged this way and that, beaten to a bloody pulpy (figuratively, of course), and finally rises from the ashes, a new man.
Jennifer Xu
Super Reviewer
Very underrated and a great story about vanity and the drawbacks of Hollywood. Paul Newman delivers his usual knockout performance, creating a very lovable and fun character that is also very realistic and heart felt. There's also a lot of other great performances thrown in, including Rip Torn as a deranged redneck out for blood. The story is so well put together by the greatest playwright to ever live, Tennessee Williams. I think the love story is so well done and put together in such a tragic way that the end result nearly drains you. The movie itself is really well put together and has some really beautiful sets and shots.
Conner Rainwater
Super Reviewer
Sweet Bird of Youth Quotes
There are no approved quotes yet for this movie.