Sweethearts
(1938)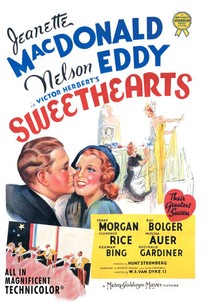 AUDIENCE SCORE
Critic Consensus: No consensus yet.
Movie Info
Contrary to popular belief, the Nelson Eddy-Jeanette MacDonald Technicolor confection Sweethearts is not based on the 1913 Victor Herbert operetta of the same name (though most of Herbert's songs remain intact), but a Dorothy Parker-Alan Campbell brainstorm about a popular Broadway singing duo, starring in a long-running production of Sweethearts. The early portions of the film take place during a purported presentation of the Herbert piece, with Eddy and MacDonald singing their hearts out and Ray Bolger providing comic relief. We then segue into a long sequence wherein producer Frank Morgan, celebrating Sweethearts's six-year run, insists that Eddy and MacDonald attend a lavish party, where the weary performers are called upon to continue singing throughout the evening. Hoping for a few moments alone after escaping the party, Eddy and MacDonald are besieged at their apartment by friends, co-workers, hangers-on and sponging relatives. Seeking peace and quiet, the couple agrees to leave Sweethearts for the comparative calm of Hollywood. But their entourage, fearing that they'll lose their meal ticket if Eddy and MacDonald leave New York, arrange to inaugurate two profitable road companies of Sweethearts by contriving to split up the loving couple. Cleverly sidestepping the sugary sweet sentimentality that one might expect from an MGM musical of the era, the delightful Sweethearts is hampered only by its overlength.
Critic Reviews for Sweethearts
All Critics (1) | Fresh (1) | Rotten (0)
Filmed entirely in natural colors, it brings out a vivid new personality in Miss [Jeanette] MacDonald, who proves herself a decided knockout with her flaming red hair and her jade-green eyes.
Audience Reviews for Sweethearts
There are some funny scenes, but mostly it's a boring drama with a lot of singing.
Sweethearts starring Jeanette MacDonald & Nelson Eddy is a very splended MGM muscial from 1938. This film for trivia info was voted the best film of the year by movie goers...not bad. Also it was the very frist MGM filmed in color. Jeanette & Nelson play a very much in love stars on Brodway. It is a sweet film with very lavish musical numbers telling a story of the couple getting courted on a possible film career and a misunderstanding....a lovely film!
Mason Williams
Super Reviewer
Sweethearts Quotes
There are no approved quotes yet for this movie.