Swing Time
(1936)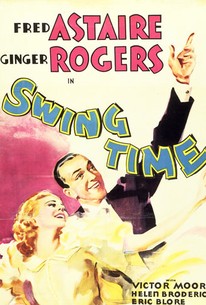 TOMATOMETER
AUDIENCE SCORE
Critic Consensus: Ginger Rogers and Fred Astaire are brilliant in Swing Time, one of the duo's most charming and wonderfully choreographed films.
Movie Info
The sixth of RKO's Fred Astaire -Ginger Rogers pairings of the 1930s, Swing Time starts off with bandleader Astaire getting cold feet on his wedding day. Astaire's bride-to-be Betty Furness will give him a second chance, providing he proves himself responsible enough to earn $25,000. Astaire naturally tries to avoid earning that amount once he falls in love with dance instructor Ginger Rogers. Numerous complications ensue, leading to the "second time's the charm" climax, with Ginger escaping her own wedding to wealthy Georges Metaxa in order to be reunited with Astaire. The film's most indelible image is that of Fred Astaire, immaculately attired in top hat and tails, hopping a freight car--a perfect encapsulation of the film's Depression-era cheekiness. The Jerome Kern-Dorothy Fields score includes such standards-to-be as "Pick Yourself Up," "A Fine Romance," "The Way You Look Tonight," "Never Gonna Dance" and "Bojangles of Harlem." The peerless supporting cast of Swing Time includes Helen Broderick, Victor Moore, Eric Blore, and Landers Stevens, the actor-father of the film's director, George Stevens. ~ Hal Erickson, Rovi
Critic Reviews for Swing Time
Audience Reviews for Swing Time
A gambling dancer travels to the big city to win/earn enough money to marry his fiancee but falls for his dance partner in the process. Those who like this film are compelled by the combination of Fred Astaire and Ginger Rogers, and they find the music "peerless," to quote Stephen Garrett. While I can deny that Astaire and Rogers can dance well and the music is fun, the film as a whole is not very good. The story is a cliche. It was entertaining enough to hang around three stars for me, propelled by the fun chemistry between Astaire and Rogers (fun fact: I heard they hated each other in real life), but the completely unnecessary, racially insensitive Fred Astaire-in-blackface dance dropped the film an extra star. Overall, only Astaire and Rogers fans, those who are already in the dancers' camps, will like this film.
Jim Hunter
Super Reviewer
½
"Some day, when I'm awfully low, When the world is cold, I will feel a glow just thinking of you... and the way you look tonight." "The Way You Look Tonight" is a re-occurring song in "Swing Time", though it's first introduced lyrically by Fred Astaire, as he sings to Ginger Rogers in an off-the-cuff moment at the piano. Oh, Fred plays a character named "Lucky" and Ginger plays a character named "Penny", but it's hardly worth the effort to differentiate them from their characters. Like Bogart or Marilyn Monroe, the two of them are rarely completely divorced from the characters they play, they are stars with a capital "S". Beautiful, talented, graceful stars. It's not that they are starring in a movie but that the movie is a vehicle for their stardom, a means of allowing us to see them in their element. So Fred Astaire, performing as a character named "Lucky" is supposed to marry a girl, only the guys from his dance act sabotage him and cause him to miss the wedding. Undeterred, he decides to win her back, with her father's stipulation that he earn $25,000 before he returns to marry her. So Lucky and his pal Pop (Victor Moore), set off for the city in hopes of making their fortune. It's there Lucky has a run-in with a beautiful little dancer by the name of Penny (Rogers). She doesn't like him at first, but soon the two are forming a dance routine and it's only a matter of time before love follows. But what about the girl back home? Great songs, great musical direction, great dance numbers all highlight this film, often touted as the best of the Astaire/Rogers collaborations. It's most certainly enjoyable, and even perhaps a bit touching. It's something from an era of Hollywood that has long past and is in danger of being forgotten. An era of class and sophistication that is a nice change of pace from the modern world. At least once in a while.
Devon Bott
Super Reviewer
It's rare that I laugh out loud with no one around. This film made me do just that. They sure don't make movies like this anymore and it's a shame because I believe it's still possible. I'll do a formal review later. Let's just say this is one to watch.
Swing Time Quotes
| | |
| --- | --- |
| Penelope "Penny" Carrol: | Your RIGHT foot! |
| John "Lucky" Garnett: | Sorry, I'm left handed. |
| | |
| --- | --- |
| Pop: | Here's your suitcase! (Drops almost everything from suitcase) ... Here's your toothbrush. |
| Pop: | Here's your suitcase! [drops almost everything from suitcase] Here's your toothbrush. |
| | |
| --- | --- |
| Tailor: | Look here, you see there? No cuff! Here, no cuff! THOUSANDS of no cuffs! MILLIONS of no cuffs! Positively not ONE cuff! |