Tarzan, the Ape Man
(1981)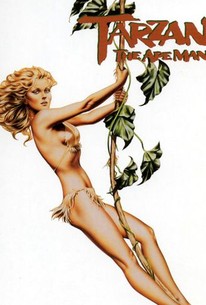 Movie Info
John Derek directed this 1981 vanity production of the Tarzan tale as a bon-bon for his wife Bo Derek. The Bo Derek version answers any questions viewers may have had concerning Tarzan and Jane's sex life. The film begins as Jane (Bo Derek)'s father Parker (Richard Harris) heads to the African interior on the pretext of searching for hidden jungle secrets. He is actually looking for Tarzan (Miles O'Keeffe), whom he plans to kidnap and bring back to England dead or alive. Jane accompanies her manic father, along with his unassuming assistant Holt (John Phillip Law). Realizing that Parker is on his trail, Tarzan kidnaps Jane and it is love at first sight. Parker forges on, trying to capture Tarzan and save his daughter. But Tarzan finally saves the day when Jane is kidnapped by a band of African mud worshippers, who are preparing her to be sacrificed to the gods. ~ Rovi
Critic Reviews for Tarzan, the Ape Man
Audience Reviews for Tarzan, the Ape Man
½
I saw this a long time ago and thought it was ok then. Bo Derek covered in white paint and not much else for most of the film.
Jane showing Tarzan how to have Sex in 81. I dont know if one should call this Movie a Soft Porn. Two Nacked Adults running around in a Movie casually having sex doesnt make it even near to a soft Porn. Each to their own.
The story of the Lord of Greystoke as soft core porn. Junk.
Tarzan, the Ape Man Quotes
There are no approved quotes yet for this movie.