Tempest
(1928)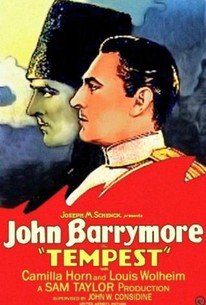 AUDIENCE SCORE
Critic Consensus: No consensus yet.
Movie Info
An high-ranking military officer in Czarist Russia fruitlessly woos a temperamental lady aristocrat, who orders him imprisoned -- until the Revolution, when he takes control of the Red army, attaining the upper hand over his former lover/betrayer. One of the most readily available John Barrymore silents.
Critic Reviews for Tempest
All Critics (2) | Top Critics (1) | Fresh (2) | Rotten (0) | DVD (1)
Tempest is a pretty paradox, simultaneously pooh-poohing Russian socialism and applauding the American faux-ideal that love is blind to hierarchy.
Director Sam Taylor... guides this gorgeous costume drama like he was a master of the epic form...
Audience Reviews for Tempest
Not to be confused with Shakespeare's The Tempest. This silent picture won an Art Direction Oscar for William Cameron Menzies. I was also impressed by the camera work of Charles Rosher, which included a through the bottom of a shot glass shot and what appears to be aerial shots of the Russian village, but are actually carefully planned shots of a model lining up with a live action set I think. A Sgt. Ivan Markov (John Barrymore) of lowly birth is not accepted by the aristocratic officers of the Russian army. He falls for a stuck-up princess and through a misunderstanding is thrown in jail where he is driven to hallucinate. When the Communist Revolution hits, a creepy peddler (Boris de Fast) who is a leader of the revolution recognizes Ivan and offers him freedom if he helps to judge all the aristocrats who have been ripped from power. One other Sergeant (Louis Wolheim) is a rough and ready revolutionary and steadfast friend to Ivan. Ivan's conscience is tested when the former General who broke tradition to promote Ivan to officer status comes before the revolutionary panel of judgement, and Ivan who has always been a just man is the only one willing to offer the General and his daughter mercy. This Hollywood film is well made, but has a confusing message. Ivan is of the lower classes. He achieves professional advancement, but no real change in social status. The revolution's purpose is to give power to the common people, where Ivan can rise to an even more prominent position. However, the revolutionary leaders are portrayed as being quite morally corrupt, snarlingly evil, and excessively unforgiving. Really qualities shared by the aristocrats although their established power masks these unpleasant flaws. Hollywood often lifts up the underdog, the common man rising above his station, but established producers and creatives must have been leary of promoting Communism in America, so Ivan is between a rock and a hard place with no clear societal order that is clearly the better choice.
Byron Brubaker
Super Reviewer
This movie was so boring, I couldn't watch it all. It's not that it's bad, I just couldn't stand it.
Tempest Quotes
There are no approved quotes yet for this movie.