The Ten Commandments
(1956)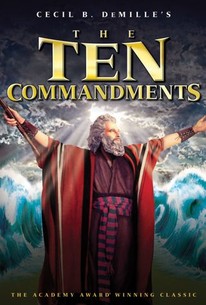 TOMATOMETER
AUDIENCE SCORE
Critic Consensus: Bombastic and occasionally silly but extravagantly entertaining, Cecil B. DeMille's all-star spectacular is a muscular retelling of the great Bible story.
The Ten Commandments Photos
Movie Info
Based on the Holy Scriptures, with additional dialogue by several other hands, The Ten Commandments was the last film directed by Cecil B. DeMille. The story relates the life of Moses, from the time he was discovered in the bullrushes as an infant by the pharoah's daughter, to his long, hard struggle to free the Hebrews from their slavery at the hands of the Egyptians. Moses (Charlton Heston) starts out "in solid" as Pharoah's adopted son (and a whiz at designing pyramids, dispensing such construction-site advice as "Blood makes poor mortar"), but when he discovers his true Hebrew heritage, he attempts to make life easier for his people. Banished by his jealous half-brother Rameses (Yul Brynner), Moses returns fully bearded to Pharoah's court, warning that he's had a message from God and that the Egyptians had better free the Hebrews post-haste if they know what's good for them. Only after the Deadly Plagues have decimated Egypt does Rameses give in. As the Hebrews reach the Red Sea, they discover that Rameses has gone back on his word and plans to have them all killed. But Moses rescues his people with a little Divine legerdemain by parting the Seas. Later, Moses is again confronted by God on Mt. Sinai, who delivers unto him the Ten Commandments. Meanwhile, the Hebrews, led by the duplicitous Dathan (Edward G. Robinson), are forgetting their religion and behaving like libertines. "Where's your Moses now?" brays Dathan in the manner of a Lower East Side gangster. He soon finds out. DeMille's The Ten Commandments may not be the most subtle and sophisticated entertainment ever concocted, but it tells its story with a clarity and vitality that few Biblical scholars have ever been able to duplicate. It is very likely the most eventful 219 minutes ever recorded to film--and who's to say that Nefertiri (Anne Baxter) didn't make speeches like, "Oh, Moses, Moses, you splendid, stubborn, adorable fool"? ~ Hal Erickson, Rovi
Critic Reviews for The Ten Commandments
Audience Reviews for The Ten Commandments
Network television used to show this at least once a year, and always as AN EVENT. Cecil B. DeMille's swan song is a denunciation of the sinful life while gloriously wallowing in it. A big movie that has BIG implanted into it's very DNA, Hollywood style grandeur and fun, however over-the-top.
Kevin M. Williams
Super Reviewer
½
In the 1950's, big, bold ambitious epics were the norm, The Ten Commandments being one of the most famous films of the era, I quite enjoyed the film, but for me, my favorite epic is Ben-Hur. Nonetheless, this film is quite the undertaking to watch, but the performances are really what keeps you involved for the nearly four hour run time. The film has a grand story, and it boasts some impressive visuals, which for its time were quite the feat in the cinematic medium, but still hold up to this day. The Ten Commandments is a blistering picture, one that is beautifully shot, with grand, ambitious storytelling and exceptional performances. This film is one of the most engrossing film experiences that I have seen, and it's a definite classic. However, I must warn potential viewers that you must be committed in seeing this one due to its length, and it's not for everyone either. I enjoyed the movie, and I found it to be one of the best films of the genre. However, I preferred Ben-Hur a bit more. Also the film could have been a little shorter as well. Nonetheless the film is superb in every way, and the storytelling here is ambitious, and it's a compelling picture that certainly is a feat in filmmaking. The Ten Commandments is a near perfect picture that is more captivating due to its performances from its cast, and each actor brings something unique to make the film truly something remarkable. The film is worth seeing if you're a diehard film fanatic that loves all sorts of genres, and in terms of epics, this is certainly one of the biggest along with Ben-Hur, and countless others that followed. This film set the standards of filmmaking even further and it succeeds quite well at grabbing your attention, and it is a riveting, sweeping picture that you soon won't forget. However, it is a long movie, and at times you're anxious for the film to conclude, but you're invested deeply at the same time due to the very good story and great acting that you see unfolds before your eyes. Seeing The Ten Commandments, you realize that movies where they tend to focus on big, gripping and ambitious storytelling and that's the best type of films to watch.
½
The Ten Commandments is certainly extravagant. It was the most expensive film ever made up to that point. All exterior shots were actually photographed on location in Egypt. It employs a cast of thousands with 70 speaking parts. In an era where they really had to hire all of those people you see in the background, this was truly an epic undertaking. No computer animation. This is all practical effects. In a surprising bit of restraint, only 3 of the 10 plagues are depicted: the water turning into blood, thunder & hail storm, and killing of the oldest sons. The latter features an Angel of Death imagined as a thick, green mist that creeps through the streets claiming the lives of Egypt's firstborn sons. As memorable as that was, it pales next to one of the greatest special effects sequences of all time that follows the Exodus of over 12,000 extra. The production culminates in Moses' parting of the Red Sea in the climatic scene. Even now it's a visual feat to be admired. It was nominated for 7 Academy Awards winning 1 for Best Visual Effects. To this day, the movie is the sixth most successful ever when adjusting for inflation. It remains the yardstick by which all biblical stories must be measured.. fastfilmreviews.com
Mark Hobin
Super Reviewer
The Ten Commandments Quotes
| | |
| --- | --- |
| Moses: | Go, proclaim liberty throughout all the land, and to all the inhabitants thereof. |
| Moses: | Go, proclaim liberty throughout all the land and to all the inhabitants thereof. |
| | |
| --- | --- |
| Moses: | The Lord of Hosts will do battle for us. Behold His mighty hand. |
| | |
| --- | --- |
| Moses: | There is a beauty beyond the senses, Nefretiri. Beauty like the quiet of green valleys and still waters. Beauty of the spirit that you cannot understand. |