The Texas Chainsaw Massacre
(1974)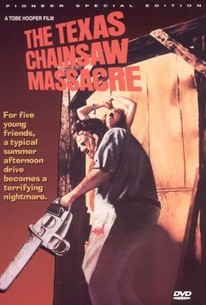 TOMATOMETER
AUDIENCE SCORE
Critic Consensus: Thanks to a smart script and documentary-style camerawork, The Texas Chainsaw Massacre achieves start-to-finish suspense, making it a classic in low-budget exploitation cinema.
The Texas Chainsaw Massacre Photos
Movie Info
Just as Hitchcock's Psycho was based on the life of deeply disturbed farmer Ed Gein, so is this little story of depravity and dementia. When a sister and her brother take a group of friends to visit the farmhouse of their deceased grandfather, they discover that just next door lives a whole family of repugnant psycho killers. Most noteworthy is "Leatherface" who is the bloke who wields the power saw and has a penchant for human flesh. Though the film did not enjoy immediate success at the box office, it has since gathered a hefty cult following. Directed by Tobe Hooper, Texas Chainsaw Massacre is considered by many to be groundbreaking work in the genre of horror.
News & Interviews for The Texas Chainsaw Massacre
Critic Reviews for The Texas Chainsaw Massacre
Audience Reviews for The Texas Chainsaw Massacre
An unforgettable horror classic that proved low budget can be terrifying when done right, taking a careful time to build up its tension to an almost unbearable degree before fraying our nerves to pieces with its horrendous sadism, hysterical editing and documentary-style camerawork.
Carlos Magalhães
Super Reviewer
½
Unlikable characters and amateur acting makes it hard to get into this. But once the really horrible slaughtering starts you can't help but shift uncomfortably in your seat. Especially the last twenty minutes are really creepy, albeit unintentionally funny at times. But you can imagine what an impact the film must have had in its time.
Tobe Hooper's controversial classic is a landmark stamp in the genre of horror and a step towards the slasher sub genre. The Texas Chainsaw Massacre is a rare low-budget overnight sensation that produced hysteria and is still a disturbingly entertaining film for audiences then and now. 4/5
Eugene Bernabe
Super Reviewer
The Texas Chainsaw Massacre Quotes
| | |
| --- | --- |
| Old Man: | Look what your brother did to the door! |
| | |
| --- | --- |
| Sally: | [when they arrive at the old house, upon seeing its condition] Oh, I wish they hadn't let the place fall apart. |
| Jerry: | Now it looks like the birthplace of Bela Lugosi. |
| | |
| --- | --- |
| Narrator: | The film which you are about to see is an account of the tragedy which befell a group of five youths, in particular Sally Hardesty and her invalid brother, Franklin. It is all the more tragic in that they were young. But, had they lived very, very long lives, they could not have expected nor would they have wished to see as much of the mad and macabre as they were to see that day. For them an idyllic summer afternoon drive became a nightmare. The events of that day were to lead to the discovery of one of the most bizarre crimes in the annals of American history, The Texas Chain Saw Massacre. |
| | |
| --- | --- |
| Sally: | [to The Cook] You're crazy! Please, you've got to make them stop. |
| Hitchhiker: | [laughing and mocking Sally] He can't stop it. He's just a cook! |
| Old Man: | [to the Hitchhiker] Shut up, you bitch hog! |
| Hitchhiker: | Isn't that right? Me and Leatherface do all the work. You're just the cook. |
| Old Man: | Shut your mouth! I just can't take no pleasure in killing. There's just some things you gotta do. Don't mean you have to like it. |