Shivers (They Came from Within) (The Parasite Murders)
(1975)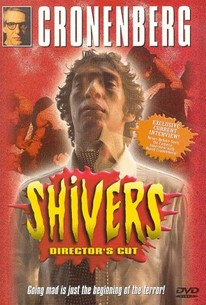 Shivers (They Came from Within) (The Parasite Murders) Photos
Movie Info
A gripping exercise in body horror and social paranoia, prolific Canadian director David Cronenberg's debut feature offers a startling look at modern isolationist society with a parasitic twist. When a scientist experimenting with a new form of organ transplants kills a young female resident of a fortress-like apartment complex before subsequently committing suicide, the investigation into her death leads to a frightening discovery. Originally conceived by the misguided scientist in a bid to aid organ transplant, an overzealous parasite quickly escapes into the complex in search of a host. One by one, the unsuspecting residents fall prey to the parasite, and the result is an aggressive horde of sex maniacs who will stop at nothing to satisfy their primal lust and pass the infection on through sexual contact. When the resident doctor learns the sinister truth behind the malevolent creation, only one man stands between an apartment complex overflowing with id-driven zombies and the outside world. Will he be able to stop the rapidly spreading parasite before it escapes into society, or is it only a matter of time until he, too, falls prey to its rapturous effects and gives in to the temptations of the flesh? ~ Jason Buchanan, Rovi
Critic Reviews for Shivers (They Came from Within) (The Parasite Murders)
Audience Reviews for Shivers (They Came from Within) (The Parasite Murders)
½
Pretty gruesome and quite disturbing. Only in the 70's would they have made a movie about what pretty much amounts to sex zombies. I don't think it would work as a modern film, and I'm not entirely sure it works here either, but it is interesting and has that 70's thing going for it.
Nicki Marie
Super Reviewer
½
It is hard to see what Cronenberg had in mind when he concocted this repellent film full of sexism and misogyny about fear of sexuality, as it only seems to suggest that uncontrolled sexual desires lead to people becoming irrational rapists prone to pedophilia and incest.
Carlos Magalhães
Super Reviewer
David Cronenberg has always managed to deliver some truly standout films. Each film he has directed has had a profound impact on the horror genre, and he has managed to become one of the most exciting directors of the body horror genre. With Shivers, being the first film by Cronenberg he gives us a few hints of what would come later in his career. What is delivered here is a well crafted horror film that boasts some great performances from its cast and has a well written script. Shivers is an impressive debut from Cronenberg and you can clearly see his ideas already coming to fruition that would be standout through his films. Shivers was where it all started from Cronenberg, and it's a fine body horror film. Using a disease as a plot device, Cronenberg crafts a film that is horrifying in the way that it's made, and it is a prime film in the early body horror films that Cronenberg would come to be known for. The story here is entertaining and it's sure to please Cronenberg and body horror fans. I've seen many of Cronenberg's films, and for a debut film, Shivers shows the confidence of a director who knows how to go to the extreme in terrifying an audience. This is a well made horror film, one that should be seen by any Cronenberg fan. Though not as great as his later work, Shivers still ranks as a very good film from the master of the body horror genre. The scares here abound as Cronenberg uses paranoia, diseases and the human body to create something truly terrifying, and in the end, it works on so many levels.
Shivers (They Came from Within) (The Parasite Murders) Quotes
There are no approved quotes yet for this movie.