The Thing from Another World
(1951)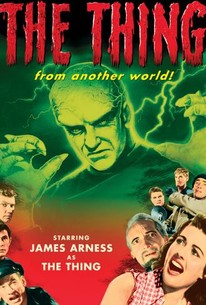 TOMATOMETER
AUDIENCE SCORE
Critic Consensus: As flying saucer movies go, The Thing From Another World is better than most, thanks to well-drawn characters and concise, tense plotting.
The Thing from Another World Photos
Movie Info
This film is set at a distant Arctic missile base, where a UFO has crashed. The frozen body of the pilot is taken to base headquarters, where it is inadvertently thawed out. The alien escapes into the snowy wastes and proceeds to wreak murderous havoc all over the base.
Critic Reviews for The Thing from Another World
Audience Reviews for The Thing from Another World
½
Classic horror - as dreamed for alien contact discovers not revelations for science, increased understanding and technological advancement but instead, in true 50s style, a thirst for human blood from a walking carrot (a comical riposte to veganism decades before the fact). Howard Hawks fingerprints are all over this, with sharp, intelligent writing, editing and direction raising this above the usual run-of-the-mill shock fest. And there's still time for some obligatory pointy sweater little romance before the ultimate showdown with fate. All the female cast, both of them, want to know if anyone wants coffee.
Kevin M. Williams
Super Reviewer
½
The legendary director Howard Hawks was both an uncredited co-writer and co-director for this above average B-movie (which has subsequently spawned two re-makes). At the frozen north pole, scientists and the US airforce have found a genuine flying saucer. When the alien is accidentally thawed out, it turns on the people of the camp. Isolated up at the tiny base, and against a creature that can't be harmed or die by traditional means, the humans must figure out a way to survive the invasion of a plant-based creature that requires their blood to reproduce. Really, it's all a metaphor for the "red scare" brewing at the dawn of the cold war. The scientists and the air force officers are seen as being at odds, while the soldiers want to destroy the harmful creature that might doom the entire human race, the "intellectuals" want to study it, preserve it, and even welcome it as a superior life form. Of course, when the menacing creature gets ahold of them, it recognizes neither friend nor foe, but lashes out with impunity. But metaphor or not, there is a creepy vibe that runs throughout the movie. Maybe it's that theremin-heavy soundtrack or maybe it's the feature-less creature itself (played by Gunsmoke's James Arness), an indistinct frankenstein's-monster-from-space that has razor blades for fingertips and grows back limbs as quick as you can lop them off. Or maybe it's the claustrophobic atmosphere that keeps you on your toes, where on a tiny base surrounded by miles of frozen wasteland where no human could survive for very long, the victims are given no chance of escape. From a personal standpoint, John Carpenter's re-make from 1982 is still tops for one of the most frightening movies I'd ever seen as a kid, but for classic 50s sci-fi, The Thing From Another World is a lot of fun. Now, who wants some coffee?
Devon Bott
Super Reviewer
As a group of scientists travel into the arctic regions on a normal investigation, which turns into one of the greatest discoveries in the history of mankind. They find that a UFO has crash landed on their planet and as they find another life form, they intend to bring it back for testing, unaware of what this "thing" truly is. They are now on the run, trying to corner and kill this "thing" and the suspense, even for 1951, is phenomenal. It really makes you believe that they are being chased by something that has never been seen by the naked eye. It's performances are believable, it's score is threatening, it's story is new, and most importantly, "it" is terrifying. "The Thing From Another World" is an absolute triumph for classic horror cinema. Brilliant!
The Thing from Another World Quotes
| | |
| --- | --- |
| Bob: | what if that thing can read minds? |
| Bob: | What if that thing can read minds? |
| Lt. Eddie Dykes: | he'll be real mad when he gets to me |
| Lt. Eddie Dykes: | He'll be real mad when he gets to me. |
| | |
| --- | --- |
| Capt. Patrick Hendry: | Some day I hope to have a co-pilot and navigator who aren't wet behind the ears |
| Capt. Patrick Hendry: | Some day I hope to have a co-pilot and navigator who aren't wet behind the ears. |
| | |
| --- | --- |
| Mrs. Chapman: | did you remember my hair pins? |
| Mrs. Chapman: | Did you remember my hair pins? |
| | |
| --- | --- |
| Nikki Nicholson: | He hasn't slept. I know him and he doesn't think like we do anyway |
| Nikki Nicholson: | He hasn't slept. I know him and he doesn't think like we do anyway. |