Thirst
(1979)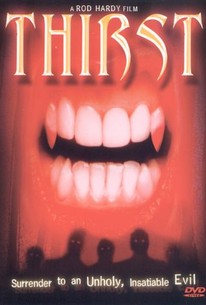 Movie Info
This cold-blooded, thinly wrought horror film has a warm-blooded theme -- the regular imbibing of said substance by a certifiably crazy cult. Kate Davis (Chantal Contouri) is slowly drawn into this cult against her (and everyone else's) better judgment. Once involved, she discovers that they have sanitized, hospital-like centers where red-blooded individuals are kept zoned out by tranquilizers. Otherwise they might have some objection or another to being essentially imprisoned and immobilized in order to supply blood on demand. In cases where the supply source is particularly popular with one of the cult members, then complete exsanguination is ordered. Even the slightest hint at humor, levity of any kind coming from any direction, might have balanced the weak plot and one-dimensional characters by covertly acknowledging their limitations. ~ Eleanor Mannikka, Rovi
News & Interviews for Thirst
Critic Reviews for Thirst
All Critics (5) | Top Critics (2) | Fresh (5) | Rotten (0) | DVD (4)
By focusing on [...] underground conspiracy, [director] Hardy and writer John Pinkney take Thirst away from the typical vampire movie [...]

[U]nlike most exercises in hematic excess--Richard Rodriguez's Planet Terror, for instance, or Tarantino's Kill Bill--Thirst offers not the consolations of camp but the intensity of opera.

Audience Reviews for Thirst
Rod Hardy directs this stunning vampire feature that is among the best vampire films of the 1970's and possibly the genre. Thirst is a film that has a tense, brooding atmosphere with a surrealistic vibe and effectively bone chilling scenes. There a few flaws of course, and at times the plot suffers, but it more than makes up for it with a good cast, an interesting story that offers something quite different than your usual vampire fare. Fans of the genre will most likely enjoy this different take on a classic tale and there are plenty of scares that abound on-screen that are guaranteed to terrify you. This is a truly original yarn that is entertaining from start to finish, and despite some minor flaws, it is a terrific horror film that is a must see for genre fans. Rod Hardy's direction is great, and he knows to craft a solid, atmospheric vampire film that is engaging from start to finish. What is wonderful with this film is that it pushes the genre into new, unexplored territory and succeeds at creating something quite different and original in the process. Even with its new twist on the genre, there's still everything you'd expect from a good vampire film. There are plenty of scenes of vampires feeding on the living, and the atmosphere helps to elevate the film in a class by itself. If you love vampire movies, and haven't seen Thirst yet, I highly recommend that you do. The film offers a different angle on the vampire lore and works well while keeping the traditional vampire trademarks intact. This film is far better than many vampire films that have been released before or since, and if you love traditional vampire tales with a slightly new twist, then give this one a shot, you'll be glad you did.
½
I found this film in a box of 3 called Aussie Horror Vol 1. This can be found at oldies dot com for a very cheap price or at Amazon. This is a 1979 Film and I guess some would rule it in the vampire category, though I would put it in the strange cult category. A young girl who of course is a decedent of someone who was leader of this cult is abducted and forced to drink blood, in hopes that she will once again bring reining power to this cult. Only big star I recognized was Henry Silva who looked like he was doing botox back in the seventies, Not the worst film I have seen but far from the best, still worth the price. 2 1/2 stars
Bruce Bruce
Super Reviewer
A good vampire horror movie, very surreal, spooky, and scary. I really liked it, the story was good, and I highly recommend it if you like vampire movies.
Thirst Quotes
There are no approved quotes yet for this movie.