This Gun for Hire
(1942)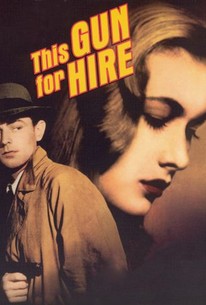 Movie Info
Though billed fourth in This Gun For Hire, Alan Ladd was catapulted to stardom in the role of Phillip Raven, a ruthless professional killer with a long-suppressed streak of decency. After successfully pulling off his latest murder, Raven reports to his boss, effeminate fifth columnist Willard Gates (Laird Cregar). He collects his $1000 fee, only to discover later that Gates has double-crossed him with marked bills. This was done at the behest of Gates' boss, crooked business executive Alvin Bewster (Tully Marshall), who wants no loose ends left around to connect him with a plot to sell poison gas to the Axis. As Raven ducks and dodges the police, detective Michael Crane (Robert Preston) is hot on the trail of Bewster and Gates. Crane talks his girlfriend, nightclub singer-musician Ellen Graham (Veronica Lake), into taking a job at Gates' nightclub. While on the train to the club, Ellen makes the acquaintance of the escaping Raven. Gates boards the train, spots Ellen innocently sitting next to Raven, and assumes that the two are in cahoots. Later, Gates kidnaps Ellen and spirits her away to his mansion, intending to do away with her the first chance he gets. Instead, Raven, still seeking revenge for being set up, bursts into the mansion in search of Gates. Having previously been impressed by Ellen's kindness, he rescues her, though he intends using her as hostage should the police catch up with him. As they hide out together in the rail yards, Ellen and Raven get to know each other. Learning of Raven's miserable, abusive childhood, Ellen tries to chip away his murderous veneer, hoping to reform him. But when the cops arrive, Raven reverts to his instincts, shooting his way out of his hiding place. As Crane escorts Ellen out of harm's way, Raven rushes towards a bloody showdown with Bewster and Gates. Based on Graham Greene's A Gun For Sale, This Gun For Hire was remade in 1958 as Short Cut to Hell, then again under the original title as a 1990 made-for-TV film.
Critic Reviews for This Gun for Hire
Audience Reviews for This Gun for Hire
½
A killer for hire hunts down the men who double crossed him in the company of a beautiful night club singer with the police in hot pursuit. This Gun For Hire was a BIG disappointment for me. Touted as a Film Noir classic, it really seemed to me to be a trashy, crowd pleasing cash in rather than the real thing. In the win column, Alan Ladd is pretty good as the killer, it's nicely shot and I'll never resent having to watch Veronica Lake do pretty much anything. On the down side, she looks about as comfortable as a prospector being ordered to dance by a gun toting Jack Palance when doing her faintly embarrassing magic/musical numbers and the plot is just a load of ludicrous contrivances punctuated with piss weak dialogue and hammy performances. But the worst offender for me was Frank Tuttle who directs what should be a gritty crime drama like a cheesy haunted house B-movie. Maybe worth it for completists, but there are much better examples of Noir out there and I frankly don't understand why this film has the reputation it enjoys.
A good forties film noir.
Alan Ladd is a patriotic hit man with a soft spot for cats in this war era film noir classic. A layered storyline emphasizes different levels of good and evil by pitting a killer against a spineless opportunist who works for a Japanese sympathizer who is pursued by a senator who recruits a beautiful magician to gather information, not knowing that she's in love with a cop who is on the trail of the killer who has been framed for a robbery by the opportunist under orders of the sympathizer. (Whew!)
Randy Tippy
Super Reviewer
This Gun for Hire Quotes
There are no approved quotes yet for this movie.