The Time Machine
(1960)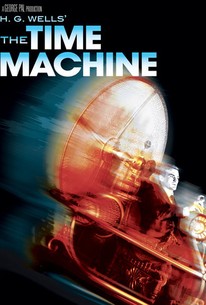 Movie Info
The time traveler (Rod Taylor) invents a machine that transcends the boundaries of time and space. As each year passed, the window mannequin in the store across the street changes fashions with the times. He is able to increase the speed of the machine as seasons fly by in a matter of seconds. The traveler advanced millennia into the future and finds a group of people enslaved to the powers of a subterranean underworld. The film is taken from the novel by H. G. Wells.
News & Interviews for The Time Machine
Critic Reviews for The Time Machine
Audience Reviews for The Time Machine
Are you telling me you made a time machine...out of a sleigh?! Probably one of the most well known and best loved sci-fi stories ever written alongside 'War of the Worlds', both of which came from the same man. A clever story which starts out at the end of the main characters adventure, the whole story is then relayed to us basically through flashbacks. After inventing a time machine the 'time traveller' skips through time zones one bit at a time before a near disaster forces him to jump way ahead into the future. Its there he meets two different types of humans, the girl of his dreams and must battle to get his machine back in order to escape back into the past. The time traveller in this film is named 'George' where as in the book he is never named, merely called the time traveller. A popular idea is that the main character within this story is in fact Wells himself, I'm unsure about this but its entirely possible, adds a nice mystery to the proceedings. Its a simple premise which comes across nicely in this film, for the most part the effects are actually quite simple in terms of showing us time racing forward. The simple visualisation of certain objects getting older and decaying is what we see mostly, yet it works well. There is also use of nice camera 'trickery' with shots of the sun racing across the sky from dawn to sunset, the flash of shadows jumping around objects as time and the sun fast forwards, and the moon in its phases. Of course special effects are limited due to the era so don't go expecting lavish CGI. There is a lot of model work, blue screen, men in suits with heavy makeup etc...its all quite cheesy and typically 60's in some places, but hey what do you expect right. The 'Elois' are a prime example of the time, they all look like 'Children of the Corn' type hippies in Roman toga-like attire, and of course they are all blonde so that must mean they are advanced. The 'Morlocks' are much better in design if you ask me and quite eerie too with their glowing eyes. The makeup on their faces is well done giving them a nice gaunt, wild, beast-like appearance. Another popular but sad element used often is the act of major world changing wars throughout. All through the story events are shaped by war, naturally this includes the known world wars but it also covers other wars, future wars, atomic wars. The way the future forms with the Eloi and Morlocks is based around a world changing nuclear war. I guess its a natural fact that we must accept, humans and their desire for war, its in our violent nature and I'm sure the world will be changed again and again in the future through war. Its definitely a fun jaunt through the ages with Aussie actor Rod Taylor. Brave move to cast an unknown (especially from Oz) over stars such as James Mason, but Taylor holds his own and is a likeable chap. You really do feel his frustration and anger with the Eloi, their lack of interest for their own kind and past human history/achievements. Plus their haircuts, outfits and general moping around would piss me off! I'd let them get eaten by the Morlocks (bit dark that angle wasn't it). I liked how the first half of the film is almost told entirely with narration as Taylor travels through the ages, not sure why but I just did. Had to expect the obligatory blonde female love interest of course, terribly predictable feature of pretty much every classic old flick. Its very hokey, hammy and kinda plays out (and looks) like an old Star Trek episode, but with all these old films things like that just add to the charm. Primitive by today's standards of course but thoroughly enjoyable...if you can stand those damn Eloi.
Phil Hubbs
Super Reviewer
This Sci-Fi classic used to be a childhood favorite of mine, when it comes to scary movies, and it's still fantastic now. Starting out slowly, but so very atmospheric it soon dives into a time traveling adventure, where the future does not look very bright for mankind. Going by the wars of the 20th century H.G. Wells and this film adaption of his classic novel see a bit of a reboot for humans 10.000 years in the future. That's as fascinating as gloomy as outlook but makes for an exciting, frustrating, pessimistic but not entirely hopeless adventure with Rod Taylor as convincing hero.
I'd like to re-watch this movie someday, I got bored with the beginning and didn't watch the whole movie, but I've heard good things about it, so I'll try watching it again.
The Time Machine Quotes
| | |
| --- | --- |
| Talking Rings: | My name is of no consequence. The important thing you should know, is that I am the last who remembers how each of us, man and woman made his own decision. Some chose to take refuge in the great caverns, and find a new way of life far below the earth's surface. The rest of us decided to take our chances in the sunlight. Small as those chances might be. |
| | |
| --- | --- |
| Talking Rings: | The war between the east and west which is now in it's three hundred and twenty-sixth year, has at last come to an end. There is nothing left to fight with, and few of us left to fight. The atmosphere has become so polluted with deadly germs, that it can no longer be breathed. There is no place on this planet that is immune. The last surviving factory for the manufacturing of oxygen has been destroyed. Stockpiles are rapidly diminishing. And when they are gone, we must die. |
| | |
| --- | --- |
| George H. G. Wells: | What have you done? Thousands of years of building and rebuilding, creating and recreating so you can let it crumble to dust. A million years of sensitive men dying for their dreams... FOR WHAT? So you can swim and dance and play. |
| | |
| --- | --- |
| David Filby/James Filby: | Take your journey on your contraption. What would you become? A Greek, a Roman, one of the pharaohs? |