Touch of Evil
(1958)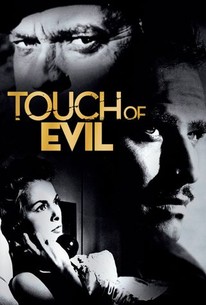 TOMATOMETER
AUDIENCE SCORE
Critic Consensus: Artistically innovative and emotionally gripping, Orson Welles' classic noir is a visual treat, as well as a dark, sinister thriller.
Movie Info
This baroque nightmare of a south-of-the-border mystery is considered to be one of the great movies of Orson Welles, who both directed and starred in it. On honeymoon with his new bride, Susan (Janet Leigh), Mexican-born policeman Mike Vargas (Charlton Heston) agrees to investigate a bomb explosion. In so doing, he incurs the wrath of local police chief Hank Quinlan (Welles), a corrupt, bullying behemoth with a perfect arrest record. Vargas suspects that Quinlan has planted evidence to win his past convictions, and he isn't about to let the suspect in the current case be railroaded. Quinlan, whose obsession with his own brand of justice is motivated by the long-ago murder of his wife, is equally determined to get Vargas out of his hair, and he makes a deal with local crime boss Uncle Joe Grandi (Akim Tamiroff) to frame Susan on a drug rap, leading to one of the movie's many truly harrowing sequences. Touch of Evil dissects the nature of good and evil in a hallucinatory, nightmarish ambience, helped by the shadow-laden cinematography of Russell Metty and by the cast, which, along with Tamiroff and Welles includes Charlton Heston as a Mexican; Marlene Dietrich, in a brunette wig, as a brittle madam who delivers the movie's unforgettable closing words; Mercedes McCambridge as a junkie; and Dennis Weaver as a tremulous motel clerk. Touch of Evil has been released with four different running times -- 95 minutes for the 1958 original, which was taken away from Welles and brutally cut by the studio; 108 minutes and 114 minutes in later versions; and 111 minutes in the 1998 restoration. Based on a 58-page memo written by Welles after he was barred from the editing room during the film's original post-production, this restoration, among numerous other changes, removed the opening titles and Henry Mancini's music from the opening crane shot, which in either version ranks as one of the most remarkably extended long takes in movie history. ~ Hal Erickson, Rovi
News & Interviews for Touch of Evil
Critic Reviews for Touch of Evil
Audience Reviews for Touch of Evil
½
Even the bad in this, and there's plenty of that, plenty, is better than most of the poop you usually digest. Excellent performances throughout. Janet Leigh's amazing until you see what Dietrich could do with a single shot.
Kevin M. Williams
Super Reviewer
It is great to be able to see this film now as Welles first intended it to be, a very complex character study (and also visually dazzling, opening with a gorgeous long tracking shot) about a corrupted man strongly convinced that any means are justifiable to achieve his idea of justice.
Carlos Magalhães
Super Reviewer
An iconic, misanthropic, film noir, "Touch of Evil" is one of Orson Welles' last Hollywood ventures and one of his best and critically received films of all time. Welles has his memorable directing style, choice of mis-en-scene, and elaborate choices in acting covering this film from top to bottom. From the bleak atmosphere, to the dark and seedy undercurrent of violence in the police department, to the cultural differences between Mexico and America on a border town, every choice in this film is magnificent. Welles also made the interesting choice to make all the music used within the film diegetic, so it plays from radios and passing cars, and not from a score. Even the plot of the film seems strangely unordinary, as it starts as an explosive (literally) investigation into a car bombing. It quickly becomes clear that the rather robust Hank Quinlan (Welles) is a culprit in the framing of a Mexican youth, and Mexican narcotics' agent Vargas (Heston) has to play a decadent game of cat and mouse in order to save his new wife Susan (Leigh) and entrap Quinlan. Every role in this film feels like a piece of a puzzle that fits together with glue like accuracy. Welles wore padding and prosthetics to play the bull-figure that he would ultimately become, and the transformation makes his gluttonous behavior seem less than coincidental with his end game. Heston, though out of his depth as a Mexican and miscast by a mile, does a convincing job of being the hero without reigning down moralistic virtues as he does in former films. Leigh is a little too agog at the world of crime for her performance to be anything but bothersome, yet she does stand up for her husband at every turn. There are many side performances that would make anyone squeal with glee, including Dennis Weaver ("Gunsmoke") as a hotel manager, Zsa Zsa Gabor as a strip club owner, and Marlene Dietrich as a gypsy madame who falls into sympathy for Quinlan, though strangely she isn't the only one who does so. Welles, as a visionary director, does some interesting things with a pulpy noir that make it resemble an art house thriller more than anything, and does so with little background noise to complicate things, something very few directors have been able to replicate.
Spencer S.
Super Reviewer
Touch of Evil Quotes
| | |
| --- | --- |
| Ramon Miguel Vargas: | A policeman's job is only easy in a police state... |
| | |
| --- | --- |
| Hank Quinlan: | Intuition |
| Hank Quinlan: | Intuition. |
| | |
| --- | --- |
| Tanya: | He was some kind of a man. What does it matter what you say about people? |