Tough Guys
(1986)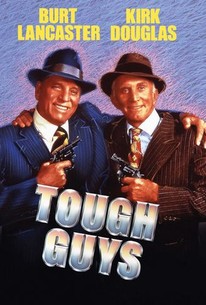 Movie Info
Burt Lancaster and Kirk Douglas star as a pair of convicts who, upon their release after thirty years in prison for robbing a train, become frustrated with the stipulations of their parole and with the disrespect they receive as elderly men. Before too long, they plan to test their thieving abilities in one last heist.
News & Interviews for Tough Guys
Critic Reviews for Tough Guys
Audience Reviews for Tough Guys
½
Legendary duo Lancaster and Douglas team up again, for the last time, in this highly amusing comedy about a couple of old boy cons released and out of date in the modern world (1986). Its now of course even more amusing as 86 was along long time ago and the film has dated somewhat haha, this doesn't detract from the fun as the two leads are really magic together and play off each other perfectly, they almost look like brothers in their natty 50's suits. The plot is pretty thin on the ground lets be frank here but the entire film is held together merely by the fantastic pairing of the two aging stars, the comedy is fair but the tough hood persona is so right for the duo. The film never gets dull for a moment as we see the guys try to live in their new world, Douglas has more of the laughs in his jobs where as Lancaster has more of the emotional side in his retirement home. Along for this ride is Eli Wallach but to be honest his role isn't really needed and seems a bit too strong for this light hearted comedy, where as Charles Durning is perfect for his usual type role of a policeman on the case, stoic springs to mind. Some great sequences, mainly the finale with the train heist which looks great, ending is a little flat and abrupt but I can't fault this top comedy, its surprising how good the duo were at comedy like this, you wouldn't think it really. Very much along the lines of 'My Fellow Americans' which is another good old boy classic.
Phil Hubbs
Super Reviewer
½
Kirk Douglas, Burt Lancaster, and Dana Carvey. Need I say more?!
Jason Reneau
Super Reviewer
A low point in the careers of both Burt Lancaster and Kirk Douglas.
Anthony Valletta
Super Reviewer
Tough Guys Quotes
There are no approved quotes yet for this movie.