Treasure Island
(1950)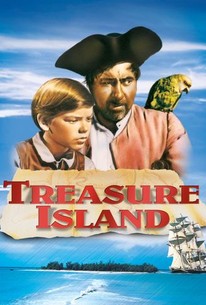 Movie Info
In this Walt Disney production of Robert Louis Stevenson's classic novel, Bobby Driscoll plays Jim Hawkins, a young cabin boy who battles the pirate Long John Silver for a treasure. Disney changes the ending of the book, yet the film is so entertaining that the difference is forgivable.
Critic Reviews for Treasure Island
Audience Reviews for Treasure Island
This is one of my favourite old Disney movies, it's fun and exciting and such a great adventure movie. It's not just a good kids movie, adults will find this movie fun and exciting too.
Now this is a real classic, true acting being performed here, Newton is made for this role as he showed in numerous other pirate flicks and a sequel to this. Its extremely good and looks realistic for its time with glorious technicolour and some lovely matt painting work (if alittle fantasised). The whole film has that golden era of cinema look, crisp colours, dashing gents with well spoken accents and a great rugged historical shine that most modern modern flicks miss. I was brought up on classics like this, kids nowadays will laugh probably, shame, they know not of the real movies hehe
Phil Hubbs
Super Reviewer
This adaptation of Stevenson's classic adventure novel was Disney's first 100% live-action film. As with a lot of similar Disney fare, it's rather too 'Technicolorful' for my taste, in general glossing over the blacker elements of the story, though the occasional tinge of darkness does prevail, for example Israel Hands' (creepily played by Geoffrey Keen) pursuit of Jim Hawkins (Bobby Driscoll) up the ship's rigging. The film badly fluffs Stevenson's masterly opening, but it doesn't do too bad a job of representing the flip-flopping morality of Long John Silver's relationship with Hawkins. Robert Newton's performance as Silver is appropriately and enjoyably hammy, but his supporting players are either unnecessarily over the top themselves (Walter Fitzgerald's Squire Trelawney and Geoffrey Wilkinson's Ben Gunn) or blandly unappealing (Driscoll, and Dennis O'Dea's Dr. Livesy). Not bad.